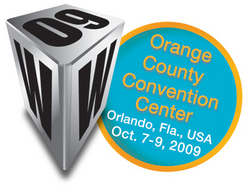 As business owners and facility managers we need to be aware. What protective measures are we taking?
Houston (Vocus) September 4, 2009
Heading to Orlando Oct. 7-9, the World Workplace 2009 Conference & Expo will feature more than 75 educational sessions addressing issues relevant to the performance and safety of the workplace. This year's sessions will cover topics including pandemic preparedness, sustainable building operations, commercial real estate purchase negotiation and more, and will feature presentations from representatives of AOL, ARAMARK, Duke University, the Smithsonian Institution, and the U.S. Air Force and General Services Administration, among others.
World Workplace 2009 educational sessions will be held Thursday, Oct. 8, and Friday, Oct. 9, at the Orange County Convention Center. Sessions will follow educational tracks such as Benchmarking & Best Practices, Sustainability, and Trends & Innovation, and conference attendees can earn continuing education units for each session they attend.
With the global health threat posed by the recent outbreak of the H1N1 influenza virus, workplace professionals need to take proactive steps to protect employees, property and profits through a business continuity plan. Larry D. Riley, compliance consultant with the Workplace Safety Awareness Council, will present ''The Swine Flu Pandemic: Urban Myths and Real Solutions for Your Facility'' on Friday, Oct. 9, from 9:30-10:30 a.m.
"As business owners and facility managers we need to be aware. What protective measures are we taking?" said Riley. "Across the country I get the idea from people that it's over -- the little outbreak we saw was no big deal. I want to keep people in the loop and let them know it's not over. I want people to leave the presentation with the idea that this is something that can really happen and can affect their business and company, and they need to take protective measures. The simplest way to do that is cleanliness."
In recognition of the continued importance of environmental responsibility, World Workplace 2009 will also feature more than a dozen sessions on sustainability. On Thursday, Oct. 8, Bill Conley, CFM, CFMJ, LEED AP, IFMA Fellow, and Laurie Gilmer, P.E., CFM, LEED AP, will host ''Sustaining Sustainability: How to Create Long Term Sustainable Operations in Your Facility'' from 9:30-10:30 a.m. Conley and Gilmer will cover the five core areas that contribute to sustainable operations and help attendees learn how to implement smart, effective initiatives that will facilitate continual measurement and improvement.
Other World Workplace sustainability sessions will focus on topics such as sustainable design legislation; integrating social responsibility and green thinking into the workplace; hybrid building power; reducing energy costs; evaluating the sustainability of green products; climate change and facility management; and indoor environmental quality.
Given the volatility of the real estate market, many built environment professionals find themselves second guessing their purchases or negotiation strategy. With this in mind, Brian Woolsey and Frank Sherwood, MBA, commercial real estate consultants with Colliers International, will present ''Broker Reveals All! Get the Scoop on How the Commercial Real Estate Game Works from an Insider'' on Friday, Oct. 9, from 9:30-10:30 a.m. Woolsey and Sherwood will outline a 10-step process for making a great real estate transaction, helping attendees learn how real estate companies price their services and how to effectively negotiate with them.
Additional World Workplace educational sessions will cover a variety of topics, including energy management in federal facilities; workplace violence response and prevention; distributed work strategies; the impact of the economy on workplace design; and natural and man-made disaster preparedness.
For a complete list of World Workplace 2009 educational sessions, click here. To learn more about the conference or for a complete list of details, visit http://www.worldworkplace.org . Members of the media interested in attending World Workplace may register at no cost here.
IFMA's World Workplace Conference & Expo is an annual three-day educational and networking event focused on the future of the built environment. Building on the professional development opportunities available through the association year-round, the World Workplace experience includes a conference focused entirely on education and an exposition incorporating product demonstration and instruction. This year's conference will be held Oct. 7-9, 2009, at the Orange County Convention Center in Orlando, Fla. For more information, visit http://www.worldworkplace.org . To join and follow IFMA's social media outlets online, visit the conference's NETworkplace page.
# # #