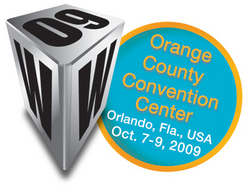 One of the most exciting elements of the new Darden Restaurants Corporate Headquarters LEED Gold certified building is that we have been able to decrease our carbon footprint by 23,000 square feet with a move from 11 buildings to one state-of-the-art facility
Houston (Vocus) August 7, 2009
As the World Workplace 2009 Conference & Expo brings the latest workplace trends and innovations to Orlando this year, the city's own rich architecture and cutting edge facilities will be on full display. Workplace professionals from around the globe will meet in Orlando Oct. 5-6, 2009, to experience the city firsthand during exclusive tours of Walt Disney World Resort, Lockheed Martin, Darden Restaurants Corporate Headquarters, JetBlue University, Lincoln Plaza and the Orange County Convention Center.
The International Facility Management Association's World Workplace conference annually offers attendees the opportunity to see the facilities that help define the conference's host city, and there is no more iconic area of Orlando than Walt Disney World Resort.
During a three-hour tour, Disney institute facilitators will take attendees through a variety of locations for an up-close look at the park's innovation. Tour sites are scheduled to include Disney's Central Shops, where the "can-do people" create everything from parade floats to Audio-Animatronics figures; Main Street, U.S.A.; and the "utilidor" system of tunnels housing support systems underneath the Magic Kingdom.
Lockheed Martin's Lake Underhill Facility in east Orlando contains 15 separate buildings totaling more than 1 million square feet. The campus serves as the global headquarters for simulation, training and support, providing strategic logistics systems and flight, ground, maritime and civil training solutions to customers worldwide.
The Lockheed Martin tour will feature a common area of the campus known as "the spine" -- a nearly one-quarter mile long, climate controlled thoroughfare connecting all the facility's major buildings. The Lake Underhill Facility has been selected as a showcase for energy, water and overall operational efficiency, and Lockheed Martin is currently pursuing ENERGY STAR® labeling and Leadership in Energy and Environmental Design® certification.
Headquartered in Orlando, Darden Restaurants is a Fortune 500 company that owns and operates more than 1,700 restaurants, including Olive Garden and Red Lobster. The company is relocating from multiple buildings to a new 470,000 square foot, three-story restaurant support center and separate data center located on a 57-acre site.
Tour attendees will be some of the first to see the new structures, which features multiple test kitchens; employee fitness and wellness centers; a single stream recycling program; and bioswales to collect water runoff into five retention ponds.
"One of the most exciting elements of the new Darden Restaurants Corporate Headquarters LEED Gold certified building is that we have been able to decrease our carbon footprint by 23,000 square feet with a move from 11 buildings to one state-of-the-art facility," said Darden Restaurants Maintenance Coordinator Kevin Lemay, who will help conduct the tour. "To support our focus on sustainability, other elements include Summit HVAC systems, ILC lighting controls and non-potable waste water. In addition to enjoying the tour, conference attendees are certain to come away with new ideas and best practices they can incorporate into their own facilities."
JetBlue University, which is responsible for the orientation and training of all employees of JetBlue Airways, will offer a tour of facilities including the simulator center and hangar. Tour attendees will be able to review the building control systems -- including fire, high expansion foam, lighting and HVAC controls -- as well as flight simulators and aircraft TV installations. A limited number of tour attendees will be allowed to ride in a flight simulator.
Orlando's Lincoln Plaza, another facility available for touring, is a prime example of energy and water efficiency. The LEED certified property initiated a sustainable purchasing program to include materials such as paper, equipment and low-mercury lamps. Lincoln Plaza has increased its ENERGY STAR score from 69 to 84; instituted a multi-pronged recycling program; and reduced overall water consumption through low-flow aerators and sub-metering.
Playing host to this year's conference is the Orange County Convention Center. Owned and operated by the Orange County government, the convention center was awarded a US$2.5 million grant from the state of Florida to help install a 1-megawatt rooftop solar photovoltaic system, which uses solar cells to convert light into electricity. It is the largest photovoltaic system of its kind in the southeastern United States.
Tour attendees will visit key locations such as the exhibit hall, meeting rooms, back-of-house service areas, mechanical rooms and control locations, including the climate change education center, which will address the convention center's solar project.
World Workplace 2009 facility tours will be held prior to the conference, on Monday, Oct. 5, and Tuesday, Oct. 6. Members of each facility's engineering, operations or facility management team will conduct the tours and be available to answer questions.
To learn more about World Workplace 2009 facility tours, or to register, click here. For a complete list of conference details, visit http://www.worldworkplace.org . Members of the media interested in attending World Workplace may register at no cost here.
IFMA's World Workplace Conference & Expo is an annual three-day educational and networking event focused on the future of the built environment. Building on the professional development opportunities available through the association year-round, the World Workplace experience includes a conference focused entirely on education and an exposition incorporating product demonstration and instruction. This year's conference will be held Oct. 7-9, 2009, at the Orange County Convention Center in Orlando, Fla. For more information, visit http://www.worldworkplace.org . To join and follow IFMA's social media outlets online, visit the conference's NETworkplace page.
###