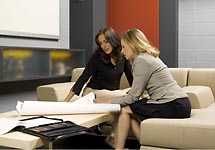 We're excited that we found such quality individuals
Nashville, TN (PRWEB) May 21, 2013
In response to the recent increase in construction activity, Facility Planners of Nashville, TN, has grown by two. With more than 18 years experience in the office furniture business, Facility Planners has built a strong reputation in furniture design, layout, installation, as well as configuration and reconfiguration of existing furniture systems.
Jay Hughes is Facility Planners' new Business Development/Account Executive. Previously an independent sales representative for several commercial furniture manufacturers calling on the Middle and East Tennessee territories, Jay also has more than 10 years experience serving the healthcare, higher education, financial, and government markets across the southeast.
Says owner, Nancy Leach, "Nashville has seen a significant increase in office market activity lately, and Jay will not only be identifying opportunities, but also securing new relationships for FPI and Teknion."
Facility Planners' new Sales Account Manager, Karen Fite, has extensive sales and design experience and most recently worked with Commercial Office Environments in Indiana, but her new role will call on her skills as a GSA (General Services Administration) specialist.
Leach explains, "I've been handling the GSA accounts myself for a while, but with the amount of travel that it requires, it was taking too much time away from my general business responsibilities. It took a while to find her, but Karen is great and will be a valued addition."
"We're excited that we found such quality individuals," she continues, "Jay and Karen will really round out our team!"
Contact:
Nancy Leach, Owner
Facility Planners, Inc.
1901 21st Ave S., Nashville TN 37212
(615) 885-3300
nleach9at)fpifurniture(dot)com
http://www.fpifurniture.com