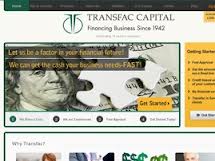 Transfac knows how to make that a smooth transition so our customers don't miss a beat and can continue to grow their businesses.
Salt Lake City, UT (PRWEB) November 28, 2012
Running an organization successfully is almost impossible if sufficient funds are not available. An organization depends upon its clients and customers to make timely payments for funds. However, there are some times when payments are delayed and the organization is left with only invoices. In such instance, business factoring service company comes in play. It agrees to lend some amount to the organization in exchange for the invoices. Collecting the pending amount from the client is then this factoring services company's work.
This method of loaning money through factoring invoices is gaining popularity amongst several industries such as trucking firms, manufacturers and staffing agencies. There are several pros and cons to this method that one must fully understand before going ahead with this method.
Pros
When an organization needs some quick liquid cash, selling factoring invoices for the loan amount is the best option available. There is no time delay when loan is obtained this way. However, if a bank loan is considered, the processing time in itself may consume a month or two.
The factoring services company does not demand that the organization have a good credit history. Instead, it relies on the clients' and customers' credit rating while loaning the amount.
The factoring companies does the follow up with the clients with respect to the pending payments. The organization can thus channel its resources for more productive tasks.
There is no need to pledge any property to get a loan. Thus, the organization does not take any form or debt in this case.
This method can be used by start up companies as well. Bad debt can be eliminated and avoided.
Cons
The methods adopted by the factoring services company may offend the clients and customers. They may in turn stop doing business with the organization.
There is usually some amount charged when a company takes loan by factoring invoices. This amount may, depending upon the factoring agency go quite high.
This method of raising funds does not have any strict legal and regulatory standards. There is a possibility of getting cheated or incurring huge losses for both the involved property. A lot of groundwork must be done to avoid any kind of monetary loss.
Financial statements, charge sheet and invoices must be kept in order for the process to get done.
Conclusion
It is imperative that enough research be done to get all the facts right before getting down to transaction. All the terms/conditions and rules must be outlined and finalized without holding back anything. If done in the correct manner, factoring services can free up large sums of working capital and prove to be advantageous. Money raised is instantaneous and immediate thus eliminating any sort of hold up.