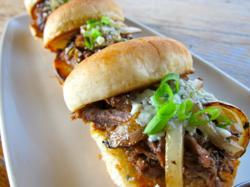 Austin, TX (PRWEB) February 06, 2013
Fadó Irish Pub & Restaurant (Fadó) has revamped its menu to offer decadent items like Slow Roasted Pork Belly and lighter options such as the Garden Beets and Hummus Sandwich, further elevating its menu to feature fine, authentic Irish dining. The menu's facelift offers Austinites a wider selection of tasty dishes for snacking and sharing with friends and family over a Guinness or hand-crafted cocktail. The old favorites remain, but are now complemented with new delights such as the Chip Shop and Stuffed Cheese Puffs. To launch the new menu, Fadó will be offering a different snack and shareable dish for free to newsletter subscribers and Facebook fans for an interactive celebration.
"We joke that you never say, 'Hey tonight should we do sushi, Italian or Irish?' We see that changing as people are moving away from large, big plate dinners to more snacks they can share with the table in a casual environment. You get to try more things and the value is exceptional," says John O'Brien General Manager of Fadó Irish Pub Austin. "We now have a bigger selection of house-made, high quality snacks that pair great with our expanded range of European and local craft beers. And we take a different approach to food than most Irish pubs - the focus at Fadó is on fresh ingredients cooked from scratch, and presentations similar to what you would see in higher-end gastro pubs."
The most notable addition to the traditional Irish menu is the Chip Shop: a concept dedicated entirely to the artful presentation of chips, or as we Americans might refer to them, fries. Guests can order a sinfully delicious serving of chips, either Fadó Thick Cut Chips or Natural Thin Cut Chips, and an option of two or four sauces including Guinness mayo, red chili aioli and many others. For those who can't choose between sauces, opt for topped chips, with the choice of Fresh Rosemary & Parmesean Tossed, Harp Lager Cheese Sauce & Bacon, Black Pudding & Chimichurri among the delicious combinations.
"All of our new plates are ridiculously good, but one of the standout sections is the 'Chip Shop' menu," says O'Brien. "Customers can choose to complete their chips - aka really good French fries - with an assortment of sauces and toppings. Pulled Lamb and Peppercorn Sauce, Harp Lager Cheese Sauce and Bacon, and Black Pudding and Chimichurri Sauce have been a few of the more popular choices. Stop in for a bite and a pint. We think you'll be pleasantly surprised."
For those with a lighter appetite, Fadó has whipped up a few dishes that are easier on the waistline, without straying away from the Irish palate. For the perfect light meal, the new Garden Beets and Hummus Sandwich or Pear and Bleu Cheese Salad satisfies the taste buds, but don't require a post consumption nap.
Fadó's happy hour snack menu has also expanded to include new items like Stuffed Cheese Puffs, Roasted Red Pepper Hummus, Slow Roasted Pork Belly and other scrumptious snacks, all priced $4 each. For a sweet ending to the evening, leave Fadó in a heavenly state after trying their new dessert item, Profiteroles, an Irish crème puff treat. These little delights are dipped in chocolate and filled with sweetened whipped cream. With many new additions to the menu, Fadó is the ideal establishment for friends and family to take pleasure in company over good wholesome food and delicious drinks.
For the next six weeks, Fadó is sampling a few of their new dishes to their fans. Every week there will be a different free dish with any purchase, simply claimed by subscribing to the Fadó Newsletter or by liking them on Facebook. Fadó will reveal new freebies at the beginning of each week, inviting subscribers to enjoy the new shareable plates and snacks among friends with exclusive discounts.
Fadó Irish Pub and Restaurant was introduced to Austin in 1997 by a team of Irish and Irish-American entrepreneurs. Their goal was simple: bring the feeling and spirit of Ireland's pub culture to the States along with great Guinness, high quality food, and an environment where staff were free to be themselves and customers could escape from the day to day. Fadó Austin does just that, bringing an authentic Irish experience to the eclectic vibe of downtown Austin. For questions and information, call 512.457.0172 or visit the website.
Fadó on Twitter
Follow Fadó on Twitter. Fadó is also using the Twitter hashtag #stpatricksday2013 to keep customers and their friends up to date.
Fadó on Facebook
Join the conversation on Facebook. Pictures of Irish food, drink and the pub are available upon request. Irish barmen and chefs are available for interviews, pouring and cooking demonstrations.
NOTE TO EDITORS:
To access hi-res photos of some of the new menu items at Fadó, visit: http://tinyurl.com/fadonewmenu