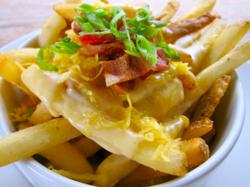 Annapolis, MD (PRWEB) February 12, 2013
Fadó Irish Pub & Restaurant located at 1 Park Place, has a revised it's menu and also created new "Chip Shop" and Snack and Share menu, offering more variety of shareable bites made from scratch with high-quality ingredients.
"We see that people are moving away from large, big plate dinners to more snacks they can share with the table in a casual environment. You get to try more things and the value is exceptional," says Bernie O'Brien, General Manager. "We now have a bigger selection of house-made, high quality snacks that pair great with our expanded range of European and local craft beers. And we take a different approach to food than most Irish pubs - the focus at Fadó is on fresh ingredients cooked from scratch, and presentations similar to what you would see in higher-end gastro pubs."
Small plates on the Snack and Share menu include:

Slow roasted pork belly with a Magners Cider reduction
Stuffed cheese puffs, house made with jalapeno jack cheese filling
Harp Lager mac and cheese with rashers, garden peas and a Parmesan breadcrumb topping
Perfect for an after work bite and late night snacking, guests can also indulge in the new "Chip Shop" (fries) with an assortment of side sauces and toppings:
Chips with two sauces with a choice of thick cut chips or natural thin cut chips. Sauce options include: Guinness mayo, red chili aioli, Marie Rose sauce, roasted garlic mayo, Guinness BBQ sauce, peppercorn sauce and curry sauce.
Topped chips with a choice of thick cut chips or natural thin cut chips. Topping options include: fresh rosemary and parmesan tossed, black pudding and chimichurri, Harp Lager cheese sauce and bacon and pulled lamb and peppercorn sauce.
In addition to the best Guinness in Annapolis, the Fadó beverage menu includes an extensive selection of beers that are an excellent addition to any appetizer order. A few craft and international draught options include:
Smithwick's Irish Ale
Goose Island IPA
Boddingtons
Flying Dog Winter Ale
The restaurant has also updated their entrées and traditional Irish fare for guests who are craving heartier options. While classic items such as the fish and chips, Shepherd's pie and corned beef and cabbage are still available, Fadó has put a new spin on its boxty dish, offering a Gaelic Steak Boxty, flamed in brandy with onion and mushroom and topped with a green peppercorn sauce.
For the next six weeks, Fadó is sampling a few of their new dishes to their fans. Every week there will be a different free dish with any purchase, simply claimed by subscribing to the Fadó Newsletter or by liking them on Facebook. Fadó will reveal new freebies at the beginning of each week, inviting subscribers to enjoy the new shareable plates and snacks among friends with exclusive discounts.
About Fadó Irish Pub and Restaurant:
Fadó (pronounced fuh-doe) Irish Pub and Restaurant was was originally designed and built in Ireland and then shipped to Annapolis for construction. Fadó is distinguished by its genuine Irish hospitality, quality of its pints and craic (pronounced 'crack', a uniquely Irish form of fun). Fadó serves the highest quality pint of Guinness in all of Annapolis. Their Guinness comes straight from St James Gate, Dublin, Ireland.