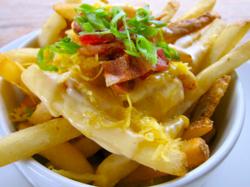 Chicago, IL (PRWEB) February 13, 2013
With the all important St. Paddy's Day season rapidly approaching, Fadó Irish Pub has introduced a new menu with a focus on sharable, small plates and snacks made from scratch that pair perfectly with a round of pints. Additionally, over 70% of the menu has been overhauled with pub favorites like the Lamb Dip, Fish and Chips, the Gourmet Burger, and Boxties getting new presentations and fresh ingredient changes.
"Fadó is a great gathering spot that offers something for everyone," said Tom Dowd, general manager. "We realize people may not ask 'what are we having tonight, Mexican, Italian or Irish?' but they do want a place where they can share some great food with friends while they grab a pint," he added.
The most notable addition to the traditional Irish menu is the Chip Shop: a concept dedicated entirely to the artful presentation of chips, or as we Americans might refer to them, fries. Guests can order a sinfully delicious serving of chips, either Fadó Thick Cut Chips or Natural Thin Cut Chips, and an option of two or four sauces including Guinness mayo, red chili aioli and many others. For those who can't choose between sauces, opt for topped chips, with the choice of Fresh Rosemary & Parmesean Tossed, Harp Lager Cheese Sauce & Bacon, Black Pudding & Chimichurri among the delicious combinations.
"All of our new plates are delicious, but one of the standouts is the 'Chip Shop' menu," says Dowd. "Customers can choose to complete their chips - aka really good French fries - with an assortment of sauces and toppings. Pulled Lamb and Peppercorn Sauce, Harp Lager Cheese Sauce and Bacon, and Black Pudding and Chimichurri Sauce have been a few of the more popular choices. Stop in for a bite and a pint. We think you'll be pleasantly surprised."
For those with a lighter appetite, Fadó has whipped up a few dishes that are easier on the waistline, without straying away from the Irish palate. For the perfect light meal, the new Garden Beets and Hummus Sandwich or Pear and Bleu Cheese Salad satisfies the taste buds, but don't require a post consumption nap.
Fadó's happy hour snack menu has also expanded to include new items like Stuffed Cheese Puffs, Roasted Red Pepper Hummus, Slow Roasted Pork Belly and other scrumptious snacks, all priced $4 each. For a sweet ending to the evening, leave Fadó in a heavenly state after trying their new dessert item, Profiteroles, an Irish crème puff treat. These little delights are dipped in chocolate and filled with sweetened whipped cream. With many new additions to the menu, Fadó is the ideal establishment for friends and family to take pleasure in company over good wholesome food and delicious drinks.
For the next six weeks, Fadó is sampling a few of their new dishes to their fans. Every week there will be a different free dish with any purchase, simply claimed by subscribing to the Fadó Newsletter or by liking them on Facebook. Fadó will reveal new freebies at the beginning of each week, inviting subscribers to enjoy the new shareable plates and snacks among friends with exclusive discounts.
About Fadó Irish Pub and Restaurant
Fadó (pronounced fuh-doe) Irish Pub and Restaurant was the first Irish pub to be designed and constructed in Ireland and shipped and installed in Chicago. Fadó is distinguished by its genuine Irish hospitality, quality of its pints and craic (pronounced 'crack', a uniquely Irish form of fun). Fadó has been voted 'Best Of' by a number of local and national publications. Get more information by visiting the pub's website, Facebook page, or by following Fadó on Twitter.