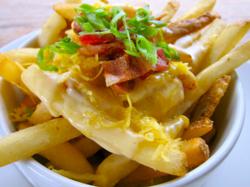 Columbus, OH (PRWEB) February 14, 2013
Fadó Irish Pub & Restaurant (Fadó) has revamped its menu to offer decadent items like Slow Roasted Pork Belly and lighter options such as the Garden Beets and Hummus Sandwich, further elevating its menu to feature fine, authentic Irish dining. The menu's facelift offers diners a wider selection of tasty dishes for snacking and sharing with friends and family over a Guinness or hand-crafted cocktail. The old favorites remain, but are now complemented with new delights such as the Chip Shop and Stuffed Cheese Puffs. To launch the new menu, Fadó will be offering a different snack and shareable dish for free to newsletter subscribers and Facebook fans for an interactive celebration.
"Fadó is a great gathering spot that offers something for everyone," said Scott Neff, general manager. "We realize people may not ask 'what are we having tonight, Mexican, Italian or Irish?' but they do want a place where they can share some great food with friends while they grab a pint," he added.
The menu, featuring the new, slightly posh snack and share options, includes items like the Slow Roasted Pork Belly with a Magners Cider Reduction; Smithwick's Mini Burgers topped with Guinness Mayo, Pickles, Onions and Melted Cheese; and Harp Lager Mac and Cheese with Rashers, Garden Peas and a Parmesan Breadcrumb Topping. Other offerings, like the Chicken Boxty Quesadilla and Gaelic Steak Boxty, reimagine traditional Irish fare with savory modern flare.
"All of our new plates are ridiculously good, but one of the standout sections is the 'Chip Shop' menu," continues Neff. "Customers can choose to complete their chips – aka really good French fries – with an assortment of sauces and toppings. Pulled Lamb and Peppercorn Sauce, Harp Lager Cheese Sauce and Bacon, and Black Pudding and Chimichurri Sauce have been a few of the more popular choices."
While the menu is new, and the beer selection is expanding, one cannot say tradition isn't important. Fadó was created by a small group of Irish and American entrepreneurs who still run the pubs today. Even the walls and decorations, which were completely designed and built in Ireland then shipped to the U.S., bleed green. Fadó remains the place to go to watch a game of soccer, rugby, or hurling, or to challenge your friends to a game of darts. And of course, there's the Guinness.
"Our Guinness is the best in the city," notes Neff, "and we pour more of it than any other restaurant or bar in Columbus." In addition to perennial favorites like Guinness, Harp, and Smithwick's, Fadó now serves a healthy selection of local brews from favorites like Victory, Troegs, and Dogfish Head.
"Stop in for a bite and a pint," offers Neff. "We think you'll be pleasantly surprised."
About Fadó Irish Pub and Restaurant
Fadó (pronounced fuh-doe) Irish Pub and Restaurant was the first Irish pub to be designed and constructed in Ireland and shipped and installed in Atlanta. Fadó is distinguished by its genuine Irish hospitality, quality of its pints and craic (pronounced 'crack', a uniquely Irish form of fun). Fadó has been voted 'Best Of' by a number of local and national publications. Get more information by visiting the pub's website, Facebook page, or by following Fadó on Twitter.