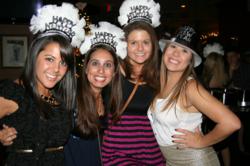 Annapolis, MD (PRWEB) December 11, 2012
This year's New Year's Eve bash at Fado is the most affordable in Annapolis - it's free. Fadó Irish Pub and Restaurant located at One Park Place hosts the "Boardwalk Empire" New Year's Eve bash starting at 9pm. For those who want to get an early start to their evening, Fado offers a 3 course pre-fixe dinner from 6-9pm. The dinner is $54.95 and guests must call ahead for reservations. $5 from each dinner purchase goes to Sandy relief efforts.
Then the official Fadó Irish Pub New Years Eve party starts at 9pm. Because no pub party is complete with great music, DJ CK comes on at 10:30 to spin all the pub favorite late into the night. At midnight everyone receives a complimentary champagne toast and party favors to properly ring in 2013. Even though there is no cover charge, Fado is accepting donations at the door for Sandy relief efforts.
For guests not purchasing the pre-fixe dinner, Fado also offers a full menu so people can taste the traditional Irish recipes that Fadó has to offer. The best part about New Year's Eve at Fado is the wide selection of ice cold beer poured from the state-of-the-art draught system that sets Fado apart from any other bar or pub.
Fadó Irish Pub & Restaurant is distinguished by its genuine Irish hospitality, quality and craic (pronounced "crack", a uniquely Irish form of fun). Don't miss out on this New Year's Eve event, come down to Fadó Irish Pub for ol, ceol agus craic galore!
About Fado Irish Pub
Fadó (pronounced fuh-doe) Irish Pub Annapolis is located at One Park Place and is revered for its Irish hospitality and craic (Gaelic for good times). In addition to happy hour the Annapolis bar also offers special events, weekly trivia nights, Annapolis live music and live European sports viewings. For more information about Fado Irish Pub and Restaurant Annapolis, please visit the pub's website
Follow us on Twitter @fadoannapolis
Join us on Facebook