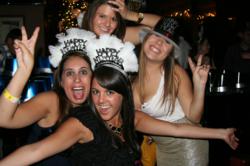 Miami, FL (PRWEB) December 13, 2012
This year Fado Irish Pub and Restaurant in Brickell Village is hosting a pre-fixe 3 course dinner on New Year's Eve. Each course is made from scratch, authentic Irish cuisine. Guests can also choose from one of specialty cocktails as part of the pre-fixe meal package. The dinner is from 6-9pm for those who want to start their evening early.
Then best New Year's Eve party in Brickell Village is at Fado Irish Pub. This year's Black and Gold Gala kicks off at 7pm with a complimentary champagne toast to the Irish New Year. The party continues with delicious food, great beer, and another toast at midnight to celebrate the start of the new year.
No New Year's Eve pub party is complete without music so DJ BL Stylz will be spinning in 2013 starting at 10pm. There is only a $10 cover charge at the door starting at 9pm making this one of the cheapest New Year's Eve party options in Miami. Guests receive a complimentary toast at midnight and party favors to properly ring in the new year.
With the wide selection of ice cold draught beer, DJ BL, authentic Irish menu offerings, and always legendary craic, this is sure to be the best New Year's Eve party in Brickell Village.
About Fado Irish Pub
Fadó, pronounced f'doe, is the Irish expression meaning "long ago". The term was commonly used as the preface of old Irish stories told by the Seanchaí (Shana-kee) or storyteller. Fadó tells the story of Ireland's rich and celebrated pub culture. It is a culture of hospitable surroundings, good food and good drink, and friendly conversation- or "craic." Fado is proud of a number of things- the quality of food, great pints, how the pub looks and feels and the people who take care of the guests. Fadó is unique in that it was constructed in Dublin and then shipped to Miami for assembly at the Mary Brickell location. Irish pubs have always been the social center for their communities and Fadó continues that fine Irish tradition.
Follow us on Twitter @fadomiami
Join us on Facebook