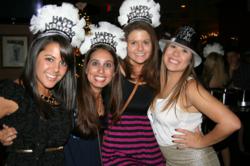 Philadelphia, PA (PRWEB) December 14, 2012
This year Fado Irish Pub, located in Center City, hosts a James Bond themed "Shaken Not Stirred" New Year's Eve Bash. Fado is also offering a 3 course Whiskey Dinner pre-fixe menu and an early start to ring in the Irish New Year with our friends back home at 7pm with a complimentary champagne toast. The pre-fixe menu offers 3 authentic Irish courses each paired perfectly with a different whiskey. The dinner is $75 or $50 without the whiskey. Call the pub for reservations and ticket details: 215-893-9700.
The official Fadó Irish Pub New Years Eve party starts at 8:30pm. Tickets are $10 ahead of time and $15 at the door making this year's party one of the most affordable New Year's Eve bashes in Philly. The cover charge includes a complimentary champagne toast at midnight and party favors to properly ring in 2013!
Because no party at the pub is complete without great music, the DJ will start playing at 10:30pm taking us into the New Year playing all the Pub favorites. Along with the pre-fixe dinner menu, Fado also offers a full menu so people can taste the traditional Irish recipes (all made from scratch) that Fadó has to offer. Also, be sure to enjoy an ice cold beer from the wide selection of beers available, all poured from the state-of-the-art draught system that sets Fado apart from any other bar or pub
Fadó Irish Pub & Restaurant (pronounced "f'doe") is distinguished by its genuine Irish hospitality, quality and craic (pronounced "crack", a uniquely Irish form of fun). Don't miss out on this New Year's Eve event, come down to Fadó Irish Pub for ol, ceol agus craic galore!
About Fado Irish Pub
Fado Irish Pub and Restaurant was was originally designed and built in Ireland and then shipped to Philadelphia. Fadó is distinguished by its genuine Irish hospitality, quality of its pints and craic. Fadó serves the highest quality pint of Guinness in all of Philadelphia. Fadó tells the tale of Ireland's rich and celebrated Pub culture - a culture of hearty food and drink, good music, warm hospitality and friendly banter. In the tradition of Irish Pubs today and long ago, it's the Irish spirit that makes a Fadó.
Follow us on Twitter @fadophilly
Join us on Facebook