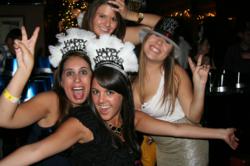 Chicago, IL (PRWEB) December 18, 2012
Fado Irish Pub in River North invites everyone to their annual New Year's Eve Masquerade Ball! The festivities start at 6pm with a toast to the Irish New Year. After the Irish New Year the party continues with DJ Ram and another champagne toast at midnight to ring in 2013.
Tickets are $10 ahead of time and, if it's not sold out, $20 at the door. Therefore, not only is this one of the best New Year's Eve celebrations in Chicago, it's also one of the cheapest. With the cover charge, guests receive a complimentary champagne toast at midnight to ring in the New Year plus great party favors! This event has sold out in the past so guests are encouraged to purchase tickets ahead of time.
No New Year's Eve party is complete without great music so DJ Ram will be spinning in 2013 starting at 10pm. With Fado's wide selection of ice cold beer poured from the state-of-the-art draught system and traditional Irish menu offerings, nothing beats the legendary craic of an Irish Pub on New Year's Eve. Arrive early, bring as many friends as possible, and don't forget the mask!
About Fado Irish Pub
Fado Irish Pub is distinguished by genuine Irish hospitality, quality and craic (Gaelic for good times). Fado is located in the River North section of Chicago. Our decor and friendly staff evoke images of the great old pubs of Ireland whereas our style of operating - our music, food, beverages - connects more so with the contemporary pubs and bars of modern Ireland. For more information please visit http://www.fadoirishpub.com
Follow us on Twitter @fadochicago
Join us on http:// Facebook