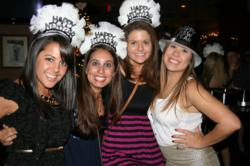 Columbus, OH (PRWEB) December 19, 2012
The only place to be on New Year's Eve is at Fado Irish Pub in Easton Town Center. This year's bash is "Mayan End of the World" themed so guests will "Party Like There Ain't No ToMAYA!" The party kicks off at 7pm with a champagne toast to ring in the Irish New Year then continues all night with another toast at midnight.
Tickets are only $10 at the door starting at 9pm making this one of the cheapest New Year's Party options in Columbus. Reservations are limited so guests are encouraged to plan ahead if they would like to request a reservation. There will be a complimentary champagne toast at midnight and Mayan themed party favors handed out to properly ring in 2013!
At 9pm DJ Puck starts the party spinning all the greatest hits all night. With the wide selection of the coldest draught beer in town, new menu offerings of authentic Irish cuisine, and genuine Irish hospitality, nothing beats the legendary craic of an Irish pub on New Year's Eve.
About Fado Irish Pub
Fadó is an Irish term meaning 'long ago'. At Fadó tells the tale of Ireland's rich and celebrated Pub culture - a culture of hearty food and drink, good music, warm hospitality and friendly banter. In the tradition of Irish Pubs today and long ago, it's the Irish spirit that makes a Fadó. Fadó is a great place to enjoy a number of traditional Irish dishes or a cool pint. Irish owned and operated, Fadó is an admirable nod to the great Irish Pub, tying current trends with old-fashioned influences.
Follow us on Twitter @fadocolumbus
Join us on Facebook