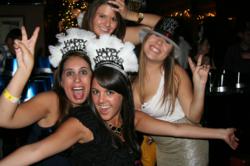 Denver, CO (PRWEB) December 20, 2012
This New Year's Eve Fado celebrates with a Masquerade Ball. The bash kicks off at 7pm and continues all night with a complimentary champagne toast at midnight celebrating the start of another new year.
Pre-sale tickets are available at the pub for $15 for one or $25 for two. Tickets are $20 each at the door so guests are encouraged to purchase them ahead of time. With the cover charge guests receive complimentary champagne for the toast and party favors to properly ring in 2013.
No New Year's Eve party is complete without music so pub favorite That 80s Band takes the stage at 9pm to keep the party going strong all night. Nothing beats the legendary craic at Fado Irish Pub on New Year's Eve - with the wide selection of ice cold draught beer, traditional Irish menu offerings and live music, Fado is the perfect place to start the new year.
About Fado Irish Pub
Fadó is an authentic Irish pub that was originally designed and built in Ireland and shipped to Denver. Fadó serves more Guinness than any other Irish pub in Denver, all of which is to the highest standards. All of our Guinness comes straight from St. James Gate, Dublin, Ireland. Fadó (pronounced fuh-doe) Irish Pub and Restaurant opened in Denver in 1998 and, is distinguished by its genuine Irish hospitality, quality and craic (pronounced 'crack', a uniquely Irish form of fun). Fadó has been voted 'Best Of' by a number of local and national publications. For more information:http://www.fadoirishpub.com
Follow us on Twitter @fadodenver
Join us on Facebook