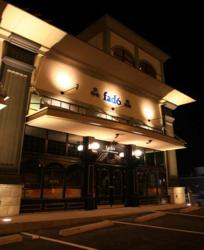 We work one-on-one with the customers to create an event that fits their expectations.
Atlanta, GA (PRWEB) May 01, 2013
Fado is famous for its authentic Dublin, Ireland decor, topnotch menu offerings, exceptional service and has the ability to host events from an intimate party for 10 to the entire Pub buy-out. For the past 17 years, Fado has been a destination spot in Buckhead and with a dedicated events manager to coordinate every little detail, Fado always serves up a fun and inviting atmosphere well suited for a range of occasions no matter the budget.
Helen Kirk, Fado Event Manager at Fado Irish Pub in Atlanta shares, ""From the nooks and crannies for the more intimate groups to the larger areas on all three levels, we can accommodate groups large and small. Our most popular spot for summer parties is our rooftop patio which is perfect to host 50-100 people.""
An option that sets Fado apart from other venues is the customer's' freedom of choice when it comes to the party menu. "We work one-on-one with the customer to create an event that fits their expectations in terms of atmosphere, food, drinks, and budget. Our customizable party menu offers a contemporary twist on traditional Irish food and options for any size gathering,"" Kirk explains.
Find us on Open Table: Diners' Choice Award ""Good for Groups".
"
Visit the party planning page and find out what other customers have said about their Fado party experience.
About Fado Irish Pub
Fado Irish Pub is distinguished by genuine Irish hospitality, quality and craic (Gaelic for good times). Fado is located in the heart of Buckhead, just north of downtown Atlanta. Next time you are nearby, we hope you'll stop by Fado for a pint, dinner, brunch or just some good craic! Walk into Fado and take a tour of Victorian-era Dublin.
Contact: Events manager, Helen Kirk 404-841-0066. hkirk(at)fadoirishpub(dot)com, Twitter: @fadohelene