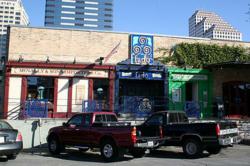 We work one-on-one with the customer to create an event that fits their expectations.
Austin, TX (PRWEB) May 02, 2013
For years, Fado Irish Pub has been a destination spot in Austin and with a dedicated events manager to coordinate every little detail, Fado always serves up a fun and inviting atmosphere well suited for a range of occasions no matter the budget.
Sarah Brown, the newest Event Manager at Fado Irish Pub in Austin shares, ""From the nooks and crannies for the more intimate groups to the larger areas for big events, we can accommodate groups large and small."" One of the favorite spots for parties in the Spring and Summer is the patio and Fado offers two. The front patio is perfect for hosting a sit down dinner for about 20 or reception style event for 50. Even better, the back patio is renovated with a Guinness bar, beautiful landscaping, stage, and plenty of room for a corporate event to a rehearsal dinner.
An option that sets Fado apart from other venues is the customer's' freedom of choice when it comes to the party menu. "We work one-on-one with the customer to create an event that fits their expectations in terms of atmosphere, food, drinks, and budget. Our customizable party menu offers a contemporary twist on traditional Irish food and options for any size gathering,"" Brown explains.
Find us on Open Table: Diners' Choice Award ""Good for Groups".
"
Visit the party planning page and find out what other customers have said about their Fado party experience.
About Fado Irish Pub
Fadó Irish Pub was introduced to Austin in 1997 by a team of Irish and Irish-American entrepreneurs. Their goal was simple: bring the feeling and spirit of Ireland's pub culture to the States along with great Guinness, high quality food, and an environment where staff were free to be themselves and customers could escape from the day to day. Fadó Austin does just that, bringing an authentic Irish experience to the eclectic vibe of downtown Austin. For questions and information, call 512.457.0172 or visit the website.
Contact: Events Manager, Sarah Brown 512-457-0172. sbrown[at]fadoirishpub[dot]com, Twitter: @fado_sarah