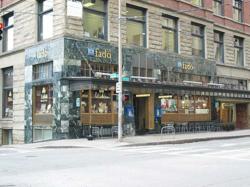 From the nooks and crannies for more intimate groups to the larger areas for big events, we can accommodate groups of any size.
Seattle, WA (PRWEB) May 07, 2013
Since it's opening in 2000, Fado Irish Pub has been a destination spot in downtown Seattle and with a dedicated events manager to coordinate every little detail, Fado always serves up a fun and inviting atmosphere well suited for a range of occasions no matter the budget.
Fado is famous for its authentic Dublin, Ireland decor, top-notch menu offerings, exceptional service and the ability to host events from an intimate party for 10 to the entire Pub buyout. Imported from Ireland for an authentic pub feel, the space makes customers feel welcome, comfortable, and at ease.
Stephanie Olsen, Event Manager at Fado Irish Pub in Seattle shares, ""From the nooks and crannies for the more intimate groups to the larger areas for big events, we can accommodate groups of any size. We now even have a small outdoor seating area perfect for small events in the spring and summer.""
An option that sets Fado apart from other venues is the customer's' freedom of choice when it comes to the party menu. "We work one-on-one with the customer to create an event that fits their expectations in terms of atmosphere, food, drinks, and budget. Our customizable party menu offers a contemporary twist on traditional Irish food and options for any size gathering,"" Olsen explains. Fado understands the importance of budget when planning a private event so the event staff works hard to bring customers the event they have in mind on the budget they can afford.
Find us on Open Table.
"
Visit the party planning page and find out what other customers have said about their Fado party experience.
About Fado Irish Pub
The Seattle Irish pub, located in the heart of downtown at the corner of 1st and Columbia, attracts a diverse clientele ranging from Seattle professionals entertaining clients to young people enjoying happy hour at the pub with friends. The Seattle pub offers happy hour deals, special events, weekly trivia nights, live music and live European sports. For questions and information, call 206-264-2700 or visit the website.
Contact: Events Manager, Stephanie Olsen 206-264-2700. solsen[at]fadoirishpub[dot]com, Twitter: @fado_steph