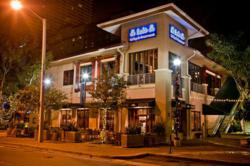 We have a large indoor and outdoor patio that can accommodate a range or party sizes and is perfect for the Spring and Summer!
Miami, FL (PRWEB) May 08, 2013
Since its recent opening in 2010, Fado Irish Pub has already established itself as a destination spot in Miami's Mary Brickell neighborhood. With a dedicated events manager to coordinate every little detail, Fado always serves up a fun and inviting atmosphere well suited for a range of occasions no matter the budget.
An option that sets Fado apart from other venues is the customer's' freedom of choice when it comes to the party menu. "We work one-on-one with the customer to create an event that fits their expectations in terms of atmosphere, food, drinks, and budget. Our customizable party menu offers a contemporary twist on traditional Irish food and options for any size gathering,"" Iturralde explains. The new menu roll out gives customers more craft beers to choose from when it comes to customizing the bar package. Fado understands the importance of budget when planning a private event, so the event staff works hard to bring customers the event they have in mind on the budget they can afford.
Fado is famous for its authentic Dublin, Ireland decor, top-notch menu offerings, exceptional service and the ability to host events from an intimate party for 10 to the entire Pub buyout. Imported from Ireland for an authentic pub feel, the space makes customers feel welcome, comfortable, and at ease. It is definitely a beautiful and unique venue compared to the traditional Miami decor.
Aileen Iturralde, Event Manager at Fado Irish Pub in Miami shares, ""From the nooks and crannies for the more intimate groups to the larger areas for big events, we can accommodate groups of any size. Being in Miami, we obviously have a large indoor and outdoor patio that can accommodate a range of party sizes and is perfect for the Spring and Summer!"" The patio faces Mary Brickell Village and has windows that open up to the street. Customers can reserve the entire space for a large party or party of the space for smaller groups to create a real Miami experience.
Find us on Open Table.
"
Visit the party planning page and find out what other customers have said about their Fado party experience.
About Fado Irish Pub Miami
Fado Irish Pub Miami is located at 900 South Miami Avenue in Mary Brickell Village. Fado Irish Pub Miami offers traditional Irish food and contemporary fare, a wide selection of European beers and weekly events such as Miami trivia, live European sports and Ladies Night specials on Thursdays. For more information about Fado Irish Pub and Restaurant Miami, please visit the pub's website. Find them on Facebook at facebook.com/fadomiami and Twitter @fadomiami.
Contact: Events Manager, Aileen Iturralde 786.924.0972. aileen[at]fadoirishpub[dot]com, Twitter: @fado_aileen