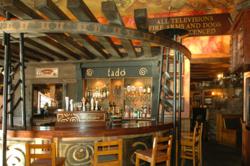 Denver, CO (PRWEB) May 14, 2013
Fado is famous for its authentic Dublin, Ireland decor, topnotch menu offerings, exceptional service and the ability to host events from an intimate party for 10 to the entire Pub buy-out. Since 1998, Fado has been a destination spot in LoDo, and with a dedicated events manager to coordinate every little detail, Fado always serves up a fun and inviting atmosphere well suited for a range of occasions no matter the budget.
Jenn McDuffie has just moved on from Event Manager to General Manager but is replaced by the young and talented Ashley Turner. She has had the opportunity to work with Jenn in the past and has quickly learned the ropes while also bringing new insights into the position. "I'm excited to take over the Event Manager position because Fado is such a unique and cool venue with so many different options," Turner explains. ""From the nooks and crannies for the more intimate groups to the larger areas on all three levels, we can accommodate groups large and small. Our most popular spot for summer parties is our large patio with a great view of Coors Field.""
An option that sets Fado apart from other venues is the customer's' freedom of choice when it comes to the party menu. "We work one-on-one with the customer to create an event that fits their expectations in terms of atmosphere, food, drinks, and budget. Our customizable party menu offers a contemporary twist on traditional Irish food and options for any size gathering,"" Turner explains. Fado understand the importance of sticking to a budget so there is no rental fee or a food or drink minimum. Everything is catered specifically to the event planner's wants and needs, making the process as stress free as possible.
Find us on Open Table.
"
Visit the party planning page and find out what other customers have said about their Fado party experience.
About Fado Irish Pub
Fado is an Irish term meaning 'long ago.' At Fado, we are telling the tale of Ireland's rich and celebrated Pub culture - a culture of hearty food and drink, good music, warm hospitality and friendly banter. In the tradition of Irish Pubs today and long ago, it's the Irish spirit that makes us what we are. Fado Irish Pub is located on Wynkoop between The Denver Chop House and Coors Field. Our authentic Irish Pub was imported from Ireland, lock, stock and barrel. The interior is unmatched in Denver as far as the beautiful wood furnishings, the cobble stone floors and of course, the magnificent murals, depicting scenes in Ireland. Fado is a great place to hang out and enjoy the best pint in Denver, and perhaps catch some traditional Irish music.
Contact: Events manager, Ashley Turner 303-297-0066.