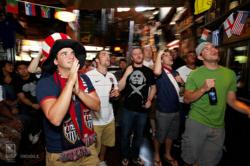 (PRWEB) April 04, 2013
For soccer fans at Fadó Irish Pub, warm weather marks the end of the season in the English Premier League, La Liga, and Serie A and the beginning of the final rounds of all the major soccer tournaments, including the 2014 World Cup Qualifiers. As an Official Soccer Bar, Fadó has attracted a host of fans - US, international travelers and ex-pats alike - who cheese on their teams weekly in a raucous atmosphere befitting the beautiful game.
Whether it is the prestigious Champions League, the ever-unpredictable FA Cup, or World Cup 2014 Qualifier matches, Fadó is the best bar to watch the games this spring and summer. No other soccer bar spends more money on broadcast fees or opens earlier to show live International soccer matches than Fadó.
With live matches broadcast from all over the US as well as the UK, Europe and South America, it is typical to see Barca fans pouring in at 2:45pm on a Wednesday, English fans enjoying a pint and traditional Irish breakfast at 8am on a Saturday and US Men's National team fans packed in at 10pm on a Tuesday night - all dressed in their team jerseys. It is this atmosphere that makes Fadó your official soccer headquarters in the city.
Here is some general stuff every fan needs to know about the Fadó soccer experience:

Tournament Information:
FA Cup:

Semi Final - April 13th and 14th
Final - May 11th
Champions League:

Second Leg - April 9th and 10th
Final - May 25th
US Qualifiers:
-Official Bar for US Soccer

-Washington: June 11
-Utah: June 18
-Ohio: September 10
-Kansas: October 11
Media Opportunities:
Fadó will be crowded with enthusiastic soccer fans supporting their teams and watching the title race in the FA Cup Final, the US World Cup Qualifiers, and the most prestigious inter-league soccer match of the year, the Champions League Final (the global Super Bowl of Soccer) on May 25.
About Fadó Irish Pub & Restaurant
Fadó Irish Pub and Restaurant, is part of a group of authentic Irish pubs formed by three Irish and Irish American entrepreneurs. Kieran McGill, Fadó's CEO, is a native of Dublin, Ireland and created the first Fadó in 1996. Fadó has locations in Atlanta, Annapolis, Denver, Austin, Chicago, Columbus, Dallas, Miami, Philadelphia, Seattle, Stamford, St Louis, and Washington DC. Fadó is the go-to spot for English Premier League, Champions League, Scottish Premier League, World Cup and much more.