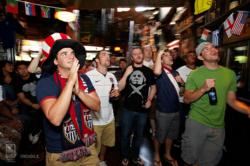 Seattle, WA (PRWEB) June 07, 2013
On Friday, June 7 at 6:30pm, the US Men's National Soccer team is set to take on Jamaica in a World Cup Qualifying match. As an official US Soccer bar, Fadó Irish Pub, located at 801 1st Avenue, will host a huge viewing party for the match complete with raffle items, soccer schwag giveaways, and drink specials.
During the game Fado offers $4 16oz Budweiser bottles and guests can enter a raffle to win great prizes for the June 11th game in Seattle - including 2 tickets to the US Soccer Tailgate outside CenturyLink Field, 2 tickets to the U.S. Soccer Chalk Talk at CenturyLink Field, VIP seating at the U.S. Soccer Pep Rally at Cinerama on June 10th.
World Cup qualifiers are happening over the next week and the US Men's national team play in Seattle at CenturyLink Field on Tuesday, June 11 against Panama. Fado will host a viewing party again for that match. The festivities start on Monday with the possibility of an exclusive meet and greet with former US Soccer star and Hall of Famer, Cobi Jones.
About Fadó Irish Pub & Restaurant
Voted one in the USA's Top 10 Most Soccercentric Bars by GQ Magazine, Fadó Irish Pub is a favorite of International, US, and MLS soccer fans. Fadó is a proud member of the Official US Soccer Bar program and is the city's go-to spot for Seattle Sounders, English Premier League, USA Men's, Champions League, Scottish Premier League, World Cup and much more.
For more information go to http://www.fadoirishpub.com/seattle/sports
Media Contact: Gerry Leonard 206-264-2700 or gleonard(at)fadoirishpub(dot)com