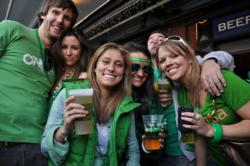 Miami, FL (PRWEB) February 21, 2013
Fadó Irish Pub & Restaurant will roll out the barrels, pump up the pipe and amplify the pub culture in South Florida for its third-annual, week long St. Patrick's Day event schedule in preparation for its "Lost Weekend" event in Miami's Mary Brickell Village, located at 900 South Miami Ave.
Fadó Irish Pub takes over Mary Brickell Village for it's St. Patrick's Day event, with a block party dominating the square all day and most of the night and an indoor pub celebration that leaves everyone all shades of green by the end of the festive night. Bag pipers showcase the best of Ireland as patrons and guests get a taste of Ireland.
Also, guests will be hoping to inherit some of that infamous Irish luck as the annual St. Patrick's Day celebration features a chance to win an all-expenses paid vacation for two to Ireland. The winner will receive flights, hotel and a tour of the Guinness Brewery at St. James Gate in Dublin. All you have to do to enter the contest is sign up for the Fadó email list.
As usual, Fadó begins the St. Patrick's Day festivities long before March 17.
From March 11 through March 17, Fadó Irish Pub & Restaurant has organized multiple events for patrons to learn more about the Irish culture and meaning of St. Patrick's Day through food, friends, festivities and fun!
ST. PATRICK'S DAY EVENTS
Sunday, March 17
St. Patricks Day Stree Festival Blowout!
The Party starts at 7:00am with Kegs & Eggs. Inside cover charge is $20 starting at 1:30pm and there's no cover for the outdoor party! The huge festival features live music all day feature 2 Guys Live and UZoo Tribute Band. Plus, great drink specials! Celebrate St. Patrick's Day the proper way at the best festival in Miami!
Saturday, March 16
"Lost Weekend" kicks off on St. Practice Day with live music all day! 6 Nations Rugby Super Saturday matches are on live in the pub starting at 10:30. This is a huge day for rugby as it is the final day of the tournament.
Monday, March 11
Guinness Perfect Pint Contest
Who can pour the best pint in Miami? Fado pins Miami's finest pubs against each other in the Perfect Pint Pouring contest. Prizes for all including most perfect pint and most creative pint. Cash and industry cred for the winner! Contact JR Baal at the pub to sign up or email us at jbaal(at)fadoirishpub(dot)com
Tuesday, March 12
Paddy's Pub Quiz, 8 p.m.
Trivia aficionados and everyday geniuses are invited to par take in Fadó Irish Pub & Restaurant's special St Patrick's Day-themed Paddy's Pub Quiz event. Wagering trivia enthusiasts better study hard for this one, as contestants have the opportunity to win VIP passes to the big St. Patrick's Day event on Sunday.
Wednesday, March 13
Bushmills Whiskey Tasting Event 8pm
Fadó is the place to be on Wednesday for those who have a knack for learning about Whiskey as Master of Whiskey Gerry Graham will be present to advise on all things Whiskey while providing Bushmills Black Bush served with gingerale, Bushmills Original Neat, and Bushmills Irish Honey on the rocks cocktails for those who are eager to mix. The tasting event will also feature some of Fado's best options off the new and improved menu – Cheese Puffs, Smoked Salmon Bites, and Slow Roasted Pork Belly .
Thursday, March 14
"Patches" Children's Charity for the Medically Complex Fundraiser
This year Fado is hosting a Guest Bartending fundraiser benefiting the Patches Children's Charity for the Medically Complex. Guests are invited to come out and have a good time and make a donation - no matter how small or large - to the charity. Everyone loves drinking for a cause!
Friday, March 15
Lucky Pint Night
Everyone hopes some of that Irish luck will rub off on them at the Lucky Pint Night event. There will be live music from 2 Guys Live. Winners of the lucky pint can receive cash prizes and passes to the St. Patrick's Day party!
About Fadó Irish Pub and Restaurant Miami
Fadó Irish Pub and Restaurant (pronounced fuh-doe) is distinguished by its genuine Irish hospitality, quality and craic. Designed and manufactured in Ireland, Fadó is recognized as a top venue for the highest-quality European draught beer, fresh food and European and international sports, primarily soccer.
For more information, please visit the pub's website at http://www.fadoirishpub.com/miami/st-patricks-day-2013 Facebook at http://www.facebook.com/fadomiami or Twitter at @fadomiami and use Hashtag #stpatricksday2013 and follow all the chatter.