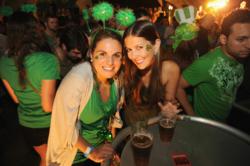 Austin, TX (PRWEB) February 28, 2013
Since 1997, Fadó Irish Pub & Restaurant (Fadó) brings the biggest St. Patrick's Day celebration to Austin, and with a colossal two day event planned, this year is no different. With St. Patrick's Day landing on a Sunday, Fadó is set to celebrate with a legendary two-day bash filled with the best mix of Irish music, food and entertainment in the city. March 16 will kick off the festivities with "St. Practice Day" featuring the annual 6 Nations Rugby Tournament early in the day followed by a full evening of live music, European draught and traditional Irish food. Doors open bright and early on March 17 at 9 a.m. to the biggest St. Patrick's Day party in Austin. Join Jason and Dev from 101x as they kick off St. Paddy's Day 2013 with live broadcast from 11 a.m. - 2 p.m. including traditional Irish breakfast, special guests and giveaways. The outdoor festival on two stages starts at noon with Irish dancers, Pipe and Drums and live music until late.
Door Cover:
10 a.m. – 2 p.m.: $10
2 p.m. – 8 p.m.: $15
8 p.m. – late: $10
Buy your tickets in advance online.
As expected, the authentic Irish pub will proudly begin celebrating St. Patrick's Day long before March 17. With event such as St. Patrick's Theme Pub Quiz and Re-Think Pop Music Showcase, even the proudest American will be waving the Irish flag. Also, guests will have the chance to win a three-night trip for two to Ireland and a VIP tour of the Guinness Brewery. Enter to win now, before your luck runs out.
St. Patrick's Day Celebration at Fadó Austin
March 13:
7:30 p.m. - Paddy's Theme Pub Quiz
Weekly Pub Quiz with a festive St. Patrick's Day twist. Pub cash and prizes are given out to top three teams of the night.
March 14:
4 p.m. - Rethink Pop Music Free Show
Fado invites you to keep the party going from your SXSW endeavors with their Rethink Pop Music Free Show, featuring Portland, Ireland and Austin based bands. Beginning early at 2 p.m., the lineup promises a night packed with remarkable talent.
March 16:
St. Practice Day
Why wait until St. Patrick's Day to sport your Irish pride? St. Practice Day is designed to kick-start the celebration on the night prior to the big day, complete with a live performance from the Traveler band and The Blaggards. Live music starts at 3 p.m. No cover!
March 17:
9 a.m. - Fadó St. Patrick's Day Celebration
An all-day out-door celebration includes live entertainment on two stages, Irish food, kegs and an outdoor beer garden. Attendees can enjoy the festivities from inside Fadó Austin and continue the party onto the blocked off area of 4th Street between Colorado and Lavaca. Guests are strongly encouraged to remember what happens when you are caught not wearing green on St. Patrick's Day. Doors open at 9 a.m., and the outdoor event begins at Noon. Tickets are $10 and are now available for purchase online. All ages are welcome from 9 a.m. – 2 p.m., ages 21+ only from 2 p.m. – close.
Six Nations Rugby Tournament Schedule
March 9:
8:30 a.m. - Scotland vs. Wales
11 a.m. - Ireland vs. France
March 10:
10 a.m. - England vs. Italy
March 16: "Super Saturday"
9:30 a.m. - Italy vs. Ireland
12 p.m. - Wales vs. England
3 p.m. - France vs. Scotland
About Fadó Irish Pub and Restaurant
Fadó Irish Pub and Restaurant was introduced to Austin in 1997 by a team of Irish and Irish-American entrepreneurs. Their goal was simple: bring the feeling and spirit of Ireland's pub culture to the States along with great Guinness, high quality food, and an environment where staff were free to be themselves and customers could escape from the day to day. Fadó Austin does just that, bringing an authentic Irish experience to the eclectic vibe of downtown Austin. For questions and information, call 512.457.0172 or visit the website.
Fadó on Twitter
Follow Fadó on Twitter at twitter.com/fadoaustin. Fadó is also using the Twitter hashtag, #stpatricksday2013 to keep customers and their friends up to date.
Fadó on Facebook
Join the conversation at Facebook.com/fadoaustin. Pictures of Irish food, drink and the pub are available upon request. Irish barmen and chefs are available for interviews, pouring and cooking demonstrations.
To access high-resolution photos of some of the new menu items at Fadó, visit: http://tinyurl.com/fadonewmenu.