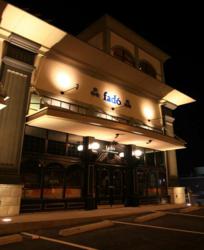 Atlanta, GA (PRWEB) January 15, 2013
Fado Irish Pub, located in the heart of Buckhead at 273 Buckhead Avenue, hosts a fun and affordable pre-fixe dinner on Valentine's Day from 5-10pm. It is a 3-course dinner of traditional Irish fare and some of the most popular items off the menu. Not only is Fado a great date spot, the pre-fixe dinner is only $34.95 per person making it one of the most affordable options.
The menu can be found on the Fado website
For the singles in town, Fado is hosting a Nuts and Bolts Valentine's Day Party on Saturday February 9. Each person gets a nut or a bolt depending on gender and has until the end of the night to find their match. This is a great way to meet people while enjoying a perfectly poured pint from the wide selection of beers that Fado has to offer. The party starts at 10pm with a DJ, great giveaways and drink specials off of the Late Night drink menu!
Fadó Irish Pub & Restaurant (pronounced "f'doe") is distinguished by its genuine Irish hospitality, quality and craic (pronounced "crack", a uniquely Irish form of fun). Whether you're single or a couple, Fado has plenty to offer for Valentine's Day.
About Fado Irish Pub:
The original Atlanta Fadó opened in January 1996 at the corner of Peachtree Road and Buckhead Avenue and became an instant hit with the people of Atlanta. The original Fadó closed on 20 October 2007 to help make way for a new development in Buckhead- the Streets of Buckhead. The new Fadó opened to the public on 11 March 2008. The new three-level venue is a great place for lunch, dinner, happy hour, late night fun and corporate or private events. It is also the home of undoubtedly the best pint in Atlanta.
Follow us at Twitter @fadoatlanta
Or join us on Facebook.