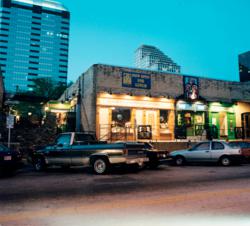 Austin, TX (PRWEB) January 16, 2013
This Valentine's Day Fado offers an easy and affordable pre-fixe menu for date night from 6-8pm. It is only $34.95 per person and has a variety of traditional Irish fare and pub favorites to choose from. Fado Irish Pub and Restaurant is located in the Warehouse District at 214 W. 4th Street. The atmosphere and top quality of food and drinks makes Fado the perfect date spot.
The menu can be found on the Fado website.
Also, for the singles looking to have a good time Fado is hosting a Red Light, Green Light Valentine's Party on Saturday February 9th. Singles wear green necklaces and couples wear red necklaces. It is a great way to meet someone over a pint of the best Guinness in town. The party starts at 9pm with live music from the Blaggards all night!
So whether you're single or a couple Fado has plenty to offer for Valentine's Day this year.
About Fado Irish Pub:
Fado Irish Pub and Restaurant was introduced to Austin in 1997 by a team of Irish and Irish-American entrepreneurs with the goal of bringing the feeling and spirit of Ireland's pub culture to the States along with great Guinness, high quality food and an environment where customers could escape from the day to day. Fado Irish Pub Austin does just that, bringing an authentic Irish experience to the eclectic vibe of downtown Austin.
Follow us on Twitter @fadoaustin
Join us on Facebook