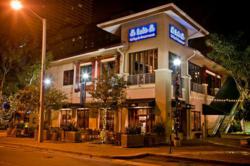 Miami, FL (PRWEB) January 17, 2013
This Valentine's Day Fado Irish Pub, located in Brickell Village at 900 South Miami Avenue Suite 200, hosts two great events. One is a party for the singles benefiting the American Heart Association, and the other is a 3-course pre-fixe dinner for the couples.
The pre-fixe dinner is on Valentine's Day from 6-10pm. The menu choices include traditional Irish fare and some of the most popular items from the menu. It is only $45 per couple making it one of the most affordable date options around. Between the fun, comfortable atmosphere and top quality food and drinks, Fado is one of the best date spots for Valentine's Day.
Customers can find the entire menu on the website.
For the singles in town, Fado is hosting a Lock and Key party on Saturday, February 9th. There is no cover charge but a $10 donation is needed to participate in the lock and key game. Guests receive a lock or a key depending on gender and the first 10 to find their match will win prizes. With the donation, guests are also entered in the raffle and get drink specials all night. All donations benefit the American Heart Association and Conscious Acts of Kindness.
The party starts at 10pm and DJ Madlinx is spinning all night to keep the party going late.
So whether you're single or a couple, Fado is the place to be for Valentine's Day this year.
About Fado Irish Pub:
Fadó, pronounced f'doe, is the Irish expression meaning "long ago". The term was commonly used as the preface of old Irish stories told by the Seanchaí (Shana-kee) or storyteller. Fadó tells the story of Ireland's rich and celebrated pub culture. It is a culture of hospitable surroundings, good food and good drink, and friendly conversation- or "craic." Fado is proud of a number of things- the quality of food, great pints, how the pub looks and feels and the people who take care of the guests. Fadó is unique in that it was constructed in Dublin and then shipped to Miami for assembly at the Mary Brickell location. Irish pubs have always been the social center for their communities and Fadó continues that fine Irish tradition.
Follow us on Twitter @fadomiami
Join us on Facebook