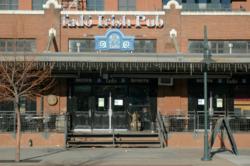 Denver, CO (PRWEB) January 18, 2013
This Valentine's Day Fado Irish Pub and Restaurant in LODO is throwing a party for all the singles. The Tag n' Shag mixer starts at 7pm on Valentine's Day, Thursday, February 14.
The mixer is an easy way to meet new people and Fado has fun ice breakers planned throughout the evening including 'nuts and bolts' and 'lock and key' games so guests can find their match. Fado is ready to prove that singles really do have the most fun on Valentine's Day with Heart Break Karaoke, drink and shot specials, and a complimentary dessert bar. Plus, there is no cover charge for this event.
There is no better way to meet that special someone than over a pint of ice cold, perfectly poured Guinness!
About Fado Irish Pub
Fadó is an authentic Irish pub that was originally designed and built in Ireland and shipped to Denver. Fadó serves more Guinness than any other Irish pub in Denver, all of which is to the highest standards. All of our Guinness comes straight from St. James Gate, Dublin, Ireland. Fadó (pronounced fuh-doe) Irish Pub and Restaurant opened in Denver in 1998 and, is distinguished by its genuine Irish hospitality, quality and craic (pronounced 'crack', a uniquely Irish form of fun). Fadó has been voted 'Best Of' by a number of local and national publications.
Follow us on Twitter @fadodenver
Join us on Facebook