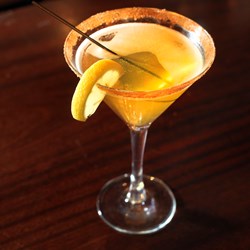 Philadelphia, PA (PRWEB) November 07, 2013
Don't be too sure that Carrie Bradshaw and the Sex and City girls would still order that classic "Cosmo" if they were around to hit the town this Friday night. Vodka may currently be king in the spirits category overall but tastes have changed dramatically and industry trends all point towards whiskey and simple cocktails that are centered around small-batch brown spirits. The interesting point here is that women are leading the charge. Inspired by these trends and the all-around winter seasonality of brown spirits, Fadó Irish Pub in Center City has a new winter cocktail menu that redefines what women are drinking now.
Whiskey is Queen!
Guestmetrics LLC, a data collection company that gathers sales from tens of thousands of restaurants into intelligible data, states that "on premise accounts show that brown spirits continue to solidly outperform clear spirits in Q3 of 2013 and, in the year over year volume growth, bourbons and blends are up (+16%) over all other spirits categories". So, in short, vodka is King and whiskey is the ruling Queen.
Here's why:
Just a few simple ingredients and whiskey's rich mixability makes for flavorful and sophisticated cocktails that women simply love to drink. And, according to Fadó bartenders, women are ordering more whiskey inspired cocktails then they ever have before. After the 10-ingredient, mixology-driven cocktail craze of the past few years, the pendulum has swung back to the middle and settled on a trend that we propose will stick: simple, straightforward small-batch, brown-spirit cocktails.
Here are the featured cocktails from this year's seasonal menu at Fado Irish Pub:
Maple Manhattan is made with 357 Maple Rye, sweet vermouth, bitters and served with a cherry icecube. It's as potent as it is simple and will warm the soul.
Fresh Whiskey Sour is probably the most popular of all sour drinks and this updated classic features Buffalo Trace Bourbon, amaretto, fresh lemon juice, and cherry bitters
Moscow Mule is "off trend" so to speak but any cocktail you drink out of a copper mug while socializing in an authentic Irish pub just begs to be included on any seasonal cocktail list and it features Russian Standard vodka, Crabbie's Alcoholic Ginger Beer and fresh lime juice.
Redbreast Irish Whiskey is quite possibly the most under-rated, affordable, and ridiculously good whiskey on the market. The 12 year, single pot still Irish whiskey earned 2010 Whiskey of the Year. Settle in by the fire and order this one neat.
For the full seasonal cocktail menu, featuring new whiskey cocktails as well as a variety of distinctive new beer and wine offerings, please visit: http://www.fadoirishpub.com/philadelphia/main-menu.
---
About Fadó Irish Pub:
Fadó (pronounced fuh-doe) Irish Pub, located at 1500 Locust Street was the first Irish pub to be designed and constructed in Ireland and shipped and installed in Philadelphia over 12 years ago. Fadó is distinguished by its genuine Irish hospitality, quality of its pints and craic (pronounced 'crack', a uniquely Irish form of fun). Fadó has been voted 'Best Of' by a number of local and national publications, is the European sports headquarters and an official US Soccer Bar. Get in on the conversation on the pub Facebook page http://www.facebook.com/fadophilly by following Fadó on Twitter http://www.Twitter.com/fadophilly
---
If you would like more information about this topic, cocktail photos, or to schedule an interview or sampling, please contact Ellen Peacock, national marketing manager at Fadó Irish Pub at epeacock (at) fadoirishpub (dot) com or 404-455-5940.