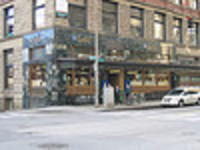 Seattle, WA (Vocus) March 2, 2010
Fadó Irish Pub and Restaurant located downtown at 808 1st Avenue is once again throwing the biggest St Patrick's Day party in Seattle. With a week long schedule of events planned Fadó invites everyone to rally friends and celebrate big. 'Session On' is a popular phrase in Ireland used amongst friends to describe that eager anticipation before a big day out at the pub. And, there is no bigger celebration at Fadó then St Patrick's Day. Session On!
Wednesday, March 10th
Annual St Paddy's Pub Quiz starts at 6:30pm. Bragging rights and great prizes are at stake at this Irish Themed contest. Justin & Ronan, an acoustic duo will be performing live at 8:30pm 'til late.
Thursday, March 11th
Show your support for the Seattle Sounders as they match up against their minor league cousins from the South in the Community Cup. Pre and post game party at Fadó; match time is 6pm.
Friday, March 12th
Get in the swing of Paddy's Day early with Live Music Friday night from the Weatherheads. No cover!
Saturday, March 13th – The Seattle St. Patrick's Day Parade
Fadó will be participating in the parade partnered by the Sounders Supporter's Collective, Gorillas FC. Give us a cheer than join us for a beer! Parade starts at 12:30pm then join us at the pub for post parade pints. Our favorite musical brothers are back. Join us at 10pm as the Kennedy Brothers perform live. No cover, no excuse!
Sunday, March 14th
Come down and unwind after the race for the Post St. Patrick's Day Dash Party. A freshening pint will be waiting for you at 9am. The oldest traditional Irish Session in Seattle kicks off at 4pm and lasts until the jiggin' stops!
Monday, March 15th
Starting at 6:30pm it's our annual St Baldrick's Fundraiser is your chance to help end childhood cancer. Join us for a silent auction, raffle, great prizes and sponsored head shaving. It'll be great craic for a great cause! Contact the pub and find out how you can participate. Live music provided and donated by King County Outlaws.
Wednesday, March 17th - St Patrick's Day in Seattle
Pub opens at 7am for Kegs and Eggs. You'll need to line your stomach in preparation of the long day ahead!
No day out at Fadó would be complete without a great live music lineup. Get here early and sample everything we have on offer. Handful of Lovin' kick things off at 2pm and the Seattle Fire Department Pipe Band will be performing throughout the day, followed by Good Rats and headliners the Kennedy Brothers.
More information is available at http://www.FadoIrishPub.com/seattle. Fadó is also using the hashtag #sessionon on Twitter to keep customers and their friends up to date.
Additionally, Fadó is making it easy to give friends a laugh on St. Patrick's Day with a new site- http://www.FadóIrishToast.com . Pick a toast that suits your mood, upload a picture of your face, send it to a friend and you'll be toasting away like a real Irishman.
Fadó is an authentic Irish pub- it was originally designed and built in Ireland and then shipped to Seattle. Fadó serves the highest quality pint of Guinness in all of Seattle. All of our Guinness comes straight from St James Gate, Dublin, Ireland.
To make it a true St. Patrick's Day in Seattle, Fadó will put special emphasis on proper Irish food and Irish drink. This season Fadó will launch Kilkenny Irish Ale to serve along with proper Irish coffees, Baileys Irish cream, and a wide selection of Irish whiskeys. All of our Irish food recipes are prepared from scratch: the traditional Irish Boxty, Corned Beef and Cabbage, and the Irish pub favorite like Fish & Chips. Fadó spares no expense to bring its customers the best Guinness and Irish food in Seattle.
About Fadó Irish Pub and Restaurant
Fadó (pronounced fuh-doe) Irish Pub and Restaurant originally opened in Seattle in 2000. Fadó is distinguished by its genuine Irish hospitality, quality and craic (pronounced 'crack', a uniquely Irish form of fun).Fadó has been voted 'Best Of' by a number of local and national publications. Get more information at http://www.FadoIrishPub.com/seattle, http://www.facebook.com/FadoSeattle, or on Twitter @FadoSeattle
###