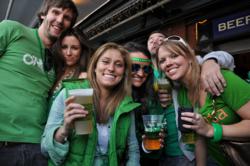 Annapolis, MD (PRWEB) February 18, 2013
Fadó Irish Pub (Fadó), located at One Park Place in Annapolis host St. Patrick's Day events all month long. The year the big weekend takes on the "Lost Weekend" theme. Doors open on St. Patrick's Day at 7:00 am complete with proper pints, pancakes, live music, and a trip to Ireland giveaway.
As usual, the authentic Irish pub will proudly begin celebrating St. Patrick's Day long before March 17 with events like a Whiskey Tastings, an Irish Themed Pub Quiz and the St Baldrick's Charity Event.
Sunday, March 17:
St. Patrick's Day
Pints & Pancakes from 7am-11am. Trip for 2 to Ireland drawing at 9am! Live music from The New Century American Irish-Arts Company, Hal the Piper, Timmi Metz Cover Band, The Rovers, and Rock N Roll Stereo. $10 Cover charge starting at 9am and 21 and up at 2pm.
Saturday, 3/16:
St. Practice Day
Pints and Pancakes from 8am-2pm. 6 Nations Rugby Super Saturday matches being at 10:30am with Ireland v. Italy. Live music with the 40 Thieves at 6pm then DJ CK spinning at 10pm until close.
Monday, 3/4
Guinness Perfect Pint Pouring Competition: Chance to win a pint a day for a year. Registration begins at 7pm. Accommodation specials at O'Callaghan Hotel.
Sunday, 3/10
St. Baldrick's Charity Event at noon: Shave your head, volunteer or donate towards the goal. It's great craic for a great cause. Event details HERE
Tuesday, 3/12
Irish Session Music at 7pm with featured menu
Wednesday, 3/13
Paddy's Day Pub Quiz with Kyle at 8pm: Test your knowledge of all things Irish. Great prizes up for grabs, including passes to our St Patrick's Day bash!
Thursday, 3/14
Bushmills Irish Whiskey Dinner at 7:30pm.
Friday, 3/15
Leary Foundation Fundraiser with Guest Bartender
St. Paddy's Day season is the perfect time to try the new menu at Fadó, which focuses on sharable, small plates and snacks made from scratch that pair perfectly with a round of pints. The menu, featuring the new, slightly posh snack and share options, includes items like the Slow Roasted Pork, Smithwick's Mini Burgers, and Harp Lager Mac and Cheese. Other offerings, like the Chicken Boxty Quesadilla and Gaelic Steak Boxty, reimagine traditional Irish fare with savory modern flare.
From now through April 7, Fadó is giving Annapolis a chance to sample the new menu with six weeks of special offers. Sign up for the pub email, or friend us on Facebook to learn more.
For more information on the St. Paddy's Day Season schedule, or to win a trip for two to Ireland, visit http://www.fadoirishpub.com/annapolis/st-patricks-day-2013.
About Fadó Irish Pub:
Fadó is an authentic Irish pub- it was originally designed and built in Ireland and then shipped to Annapolis. Fadó serves more Guinness than any other Irish pub in Annapolis, all of which is to the highest standards. All of our Guinness comes straight from St James Gate, Dublin, Ireland.
To make it a true St. Patrick's Day in Annapolis Fadó will put special emphasis on proper Irish food and Irish drink. You will always get a perfect pint of Guinness, which is served along with proper Irish coffees, Bailey's Irish cream, and the widest selection of Irish whiskeys. All of our Irish food recipes are prepared from scratch: the traditional Irish Boxty, Corned Beef and Cabbage, and the Irish pub favorite like Fish & Chips. Fadó spares no expense to bring its customers the best Guinness and Irish food in the Annapolis area.
Fadó (pronounced fuh-doe) Irish Pub opened in Annapolis in 2007. Fadó is distinguished by its genuine Irish hospitality, quality and craic (pronounced 'crack', a uniquely Irish form of fun).Fadó has been voted 'Best Of' by a number of local and national publications.
Follow Fadó on Twitter at twitter.com/fadoannapolis
Fadó is also using the Twitter hashtag #stpatricksday2013 to keep customers and their friends up to date.
Fadó on Facebook
Join the conversation at facebook.com/fadoannapolis
Pictures of Irish food, drink and the pub itself are available upon request. Irish barmen and chefs may be available for interviews and pouring and cooking demonstrations.