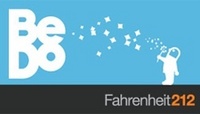 We're using everything we've learned about sparking consumer desire and behavior to drive and support people's journey toward a meaningful life.
New York, NY (PRWEB) July 27, 2009
Innovation consultancy Fahrenheit 212 has transformed dozens of blue-chip businesses. Now it's setting out to change the world for good in partnership with BeDo, an Atlanta-based branded enterprise.
The BeDo project: Create the catalytic marketplace where people can better define their personal aspirations - becoming who they want to Be - and connect with like-minded others to take action via aligned opportunities - the Do.
Fahrenheit 212 is providing $1 million worth of its innovation services pro bono, citing BeDo's proposal as the most compelling initiative received during its recent "Best Briefs" competition. "We received entries about everything from underwear to electric cars, but BeDo had the world-changing ambition," says Fahrenheit 212 CEO Geoff Vuleta. "We're out to help BeDo do for social service what eBay did for the garage sale. It's a game-changing endeavor."
BeDo founder Marc Mathieu, former SVP Global Brand Marketing for The Coca-Cola Company and creator of Coke's "Live Positively" CSR program, finds the collaboration apropos. "It's fantastic that by freely offering their expertise - doing a BeDo - Fahrenheit 212 discovered BeDo," says Mathieu, calling the engagement one of many open-source relationships BeDo is looking to build with partners around the globe. "We want more people to find their purposeful pursuits, create personalized action plans, join like-minded others and live a better, happier life."
Fahrenheit 212 President Mark Payne says BeDo's timing is impeccable. "We're at a fundamental inflection point where a one-dimensional obsession with wealth is giving way to a broader and deeper view," he says. "The confluence of economic and environmental crises with the grassroots propulsion of the Obamas to Washington have made it clear: change is necessary and change is possible."
The team is working with technology strategist and TED speaker Joshua Klein to create a scalable platform to help people channel their difference-making desires into positive actions with measurable outcomes. "This massively integrated platform will combine the deeply open accessibility of Twitter with personalized analytics to support doing good in the most inclusive, effective way possible," says Klein.
"Uncertainty and the tyranny of habit keep good intentions grounded," adds Fahrenheit 212 Innovation Director Marcus Oliver. "We're out to make doing good works an irresistible and contagious new habit for millions."
Creating new metrics for service and personal growth is key to the project. "What gets measured gets done," Oliver says. "For real change to happen in real people's lives, they need to see and to track how much change they are making in the world and in themselves."
Mathieu anticipates generating a wealth of well-being and positive impact. "We're using everything we've learned about sparking consumer desire and behavior to drive and support people's journey toward a meaningful life."
For more information, please visit Fahrenheit 212 and BeDo
# # #