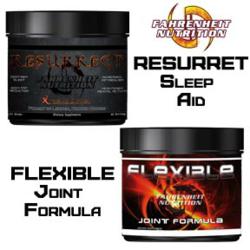 Our retailers have been extremely pleased with the quality and sales of our nutrition products.
Hutto, TX (PRWEB) April 05, 2012
Fahrenheit Nutrition announced today the repackaging of two products. Flexible, a joint recovery supplement, and Resurrect, a nighttime sleep formula, will now be sold in a smaller container. The ingredients and number of servings will remain the same. "We are listening to our retailers and accommodating their requests", said William Mellors, CEO of Fahrenheit Nutrition. "Our retailers have been extremely pleased with the quality and sales of our nutrition products. Their biggest request is the ability to keep our products in stock and reduce the container size on a couple of products. The change in container size will allow retailers to stock twice the amount of product". To meet the requests of retailers a thorough audit of each product packaging was performed. "Through our internal audit we were able to reduce the packaging of both Flexible and Resurrect. This in turn allows our retailers the opportunity to get more of our products on their shelves and also in their warehouses", Mellors added.
Will we see more changes in the future from Fahrenheit Nutrition? "We have several things we are working on", said Mellors "Let just say the future looks very bright for Fahrenheit Nutrition." Does that mean we will be seeing more new products on the horizon from Fahrenheit Nutrition? From the conversation we had with Mr. Mellors it is quite possible an announcement on a new product or two might be coming soon!
Every product delivered by Fahrenheit Nutrition is guaranteed to meet or exceed label claims. Every formulation is packed for performance and backed entirely by years of clinical research and in-the-gym testing. Our powerful and innovative line of supplements is guaranteed to maximize your hard work and commitment!
Fahrenheit Nutrition backs all our products with a 100% guarantee. If for some reason you are not happy with our products return it to us for a refund. We will even pay the shipping!
To learn more about Fahrenheit Nutrition and its line of cutting-edge supplements, visit http://www.fnutrition.com. Consumers are also encouraged to follow Fahrenheit Nutrition on their growing Facebook site at facebook.com/fnutrition.
About Fahrenheit Nutrition
Fahrenheit Nutrition is an industry leading supplier of high-end nutritional supplements. All products in the Fahrenheit line are manufactured using current Good Manufacturing Practices (cGNP) as defined by the FDA. Fahrenheit Nutrition products are available at retail outlets throughout the United States.