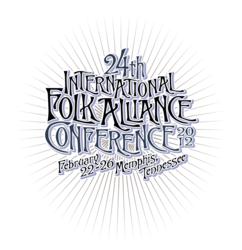 From Tommy Shaw to Rebecca Loebe, Folk Alliance will have it all!
Memphis, TN (PRWEB) September 29, 2011
The 24th annual International Folk Alliance Conference has announced its first wave of invited artists for the February conference in Memphis, TN. This list of invited artists only represents the first 15% of the over 200 official showcase artists that will appear at the upcoming conference February 22-26, 2012 in Memphis.
The first wave of official showcase invites includes legendary Styx guitarist Tommy Shaw who will be bringing his fine new bluegrass album to FA, The Voice finalist and FA favorite Rebecca Loebe, longtime Weird Al guitarist and slack key guitar wizard Jim "Kimo" West, renowned film and TV actor Ronny Cox, celebrated artist and songwriter Melanie, and some of the finest artist and songwriters from the music world. Folk Alliance International specializes in representing all styles of Folk music from traditional to contemporary. Check the folk.org website for invited artist updates.
The earlybird deadline for official showcase entry is October 17, 2011 and the final submission deadline is November 19, 2011. A final showcase schedule will be announced in December. Earlybird conference registration deadline is also November 19, 2011 so act early to take advantage of the discounted rates.
The 2012 conference will host special features on Memphis Music including a very special tribute to the late legendary Memphis record producer Jim Dickinson; centennial celebrations on the life and music of Woody Guthrie, Robert Johnson and Bill Monroe; the 40th anniversary of the film Deliverance featuring actor/musician Ronny Cox; a special preview of our 2013 conference in Toronto; a keynote from music industry icon Bob Lefsetz; Lifetime Achievement Awards presentations for Harry Belafonte, Robert Johnson and The Highlander Center; panels, clinics and workshops featuring some of the finest musicians and industry professionals in the business; and much more.
Folk Alliance annually brings together over 2000 artists and music industry professionals and features over 200 juried music showcases.
For questions regarding the 2012 Folk Alliance conference, showcase applications, keynote speaker Bob Lefsetz contact Anna Creek at 901-522-1170. For media inquiries please contact Caleb Sweazy at caleb(at)folk(dot)org.
JOIN FOLK ALLIANCE: Be a part of our rapidly growing community. Receive special member discounts on insurance, publications, manufacturing, travel, music related services, and much more. Discount group and multi-year membership rates available.
Under the leadership of SXSW co-founder, Louis Jay Meyers, Folk Alliance International leads the way in celebrating the past, present, and future of Folk, Traditional, and Roots Music.
The art of discovery is alive and well at the 24th annual International Folk Alliance Conference. See you there!
Folk Alliance International World Headquarters
510 South Main Street, Memphis TN 38103
901-522-1170
901-522-1172
http://www.folk.org fa(at)folk(dot)org
Facebook: http://www.facebook.com/folkalliance
Twitter: http://twitter.com/folkalliance
MySpace: http://www.myspace.com/thefolkalliance
Building Community One Song At A Time
Folk Alliance Invited Artists as of September 26, 2011
(subject to change/many more to be announced)
Milk Carton Kids (Los Angeles, CA), Tiller's Folly (White Rock, BC), Melanie (Nashville, TN), Tommy Shaw (Montgomery, AL), Peter Case (Los Angeles, CA), Steve Poltz (San Diego, CA), Ellis Paul (Charlottesville, VA), Julian Dawson (London, UK), Jimmy Robinson (New Orleans, LA), The Dunwell Brothers (Leeds, UK), Miles Zuniga (Austin, TX), Star & Micey (Memphis, TN), Bill Kirchen (Manchaca, TX), Jonell Mosser (Nashville, TN), The Tequila Mockingbird Orchestra (Vancouver, BC), Mamou (Mamou, LA), Tim Easton (Joshua Tree, CA), Side Street Steppers (Memphis, TN), Joe McDermott (Austin, TX), The Blue Ruins Band (Bega, New South Wales), Carolann Solebello (Brooklyn, NY), Edie Carey (Chicago, IL), The Matthew Show (Dallas, TX), The Sweetness (Austin, TX/Toronto, ON), Lisa Lambert and The Pine Ridge Boys (Dennis, MS), Malcolm Holcombe (Weaverville, NC), The Lost Pines (Austin, TX), Michaela Anne (Brooklyn, NY), Rebecca Loebe (Atlanta, GA), Jason D. Williams (Memphis, TN), Rita Hosking (Davis, CA), Seryn (Denton, TX), SHEL (Fort Collins, CO), Sofia Talvik (Stockholm), Jim "Kimo" West (Los Angeles, CA), Ronny Cox (Los Angeles, CA), The Black Lillies (Knoxville, TN), Sadie Jemmett (London, UK), 9Bach (Wales, UK), The Memphis Dawls (Memphis, TN), Town Mountain (Asheville, NC).
###