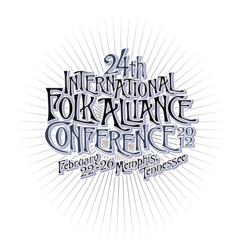 his anthems of inclusion gave voice to those previously ignored
Memphis, TN (PRWEB) December 30, 2011
Every birthday is special but few approach the celebratory significance of 2012 as American music and its fans worldwide observe the centennial births of a unique musical visionary, Woody Guthrie. The music he created came from and spoke to the core cultural sensibilities of our country and by doing so it literally shaped the sound of folk music forever.
Oklahoma's "Dust Bowl Troubadour" Guthrie gave folk music a new found passion and purpose. As spokesman for the common man he evocatively chronicled their struggle to rise from poverty and oppression, simultaneously celebrating their hard-won victories and castigating the privileged and powerful who held them down. His anthems of inclusion gave voice to those previously ignored while his example gave rise to a generation of socially conscious singers and songwriters.
The 2012 International Folk Alliance Conference is pleased to host one of the first centennial celebrations of the life of Woody Guthrie on February 22-26, 2012 in Memphis featuring several days and nights of panel discussions and music featuring members of the Guthrie family, representatives from The Grammy Museum, the Woody Guthrie Archives, and musicians that represent the spirit of Woody in song. Feature participants will include Woody's daughter Nora Guthrie, grandkids Cathy and Annie, legendary journalist Dave Marsh, the Grammy Museum's Bob Santelli, artists Jimmy LaFave, Jonatha Brooke, Joel Raphael, Eliza Gilkyson, The Red Dirt Rangers and many other distinguished guests.
The 2012 International Folk Alliance Conference will showcase over 200 musical artists, host over 100 panel discussions and workshops, and bring together over 2000 members of the Folk music community.
The 2012 conference will also host special features on Memphis Music including a very special tribute to the late legendary Memphis record producer Jim Dickinson featuring his musical offspring Luther and Cody Dickinson; a special preview of our 2013 conference in Toronto; a keynote from music industry icon Bob Lefsetz; and Lifetime Achievement Awards presentations for Harry Belafonte, Robert Johnson and The Highlander Center.
It is not too late to participate and registration information is located on our website, http://www.folk.org. For questions regarding the 2012 Folk Alliance conference, contact Anna Creek at 901-522-1170. For media inquiries please contact Caleb Sweazy at caleb@folk.org.
JOIN FOLK ALLIANCE: Be a part of our rapidly growing community. Receive special member discounts on insurance, publications, manufacturing, travel, music related services, and much more. Discount group and multi-year membership rates available.
Under the leadership of SXSW co-founder, Louis Jay Meyers, Folk Alliance International leads the way in celebrating the past, present, and future of Folk, Traditional, and Roots Music.
The art of discovery is alive and well at the 24th annual International Folk Alliance Conference. See you there!
Folk Alliance International World Headquarters
510 South Main Street, Memphis TN 38103
(office) 901-522-1170
(fax) 901-522-1172
http://www.folk.org | fa(at)folk(dot)org
Facebook: http://www.facebook.com/folkalliance
Twitter: http://www.twitter.com/folkalliance
-------------------------------------------------------------------
2012 International Folk Alliance Invited Artists (as of 12/29/2011)
all info subject to change/more to be invited
9Bach (Bethesda UK)
Charlie A'Court (Dartmouth, NS)
Alfepado (Uruquay MEXICO)
Michaela Anne (Brooklyn, NY)
Atomic Duo (Austin, TX)
C.R. Avery (Bastard Township, ON)
Brandon O. Bailey (Memphis, TN)
Sam Baker (Austin, TX)
The Barefoot Movement (Johnson City, TN)
Kim Beggs (Whitehorse, YT)
Isadora Gennari T. Belmonte (Salvador BRAZIL)
Ridley Bent (Winnipeg, MB)
Eddie Berman (Los Angeles, CA)
BettySoo and Doug Cox (Austin, TX)
The Black Lillies (Knoxville, TN)
Blackie and the Rodeo Kings (Hamilton, ON)
Meaghan Blanchard (Charlottetown, PE)
The Blue Ruins Band (Bega, New South Wales AUSTRALIA)
Natasha Borzilova (Nashville, TN)
The Boxcar Lilies (Ashfield, MA)
Eric Brace and Peter Cooper (Nashville, TN)
Jonatha Brooke (Boston, MA)
Brother Sun (New York, NY)
Megan Burtt (Denver, CO)
Kathy Byers (Chatham, NJ)
Jim Byrnes (Vancouver, BC)
Edie Carey (Chicago, IL)
Carolina Story (Nashville, TN)
Carrie Catherine (Saskatoon, SK)
Gina Chavez (Austin, TX)
Julie Christensen (Ojai, CA)
Annabelle Chvostek (Toronto, ON)
Anna Coogan (Ithaca, NY)
Cary Cooper (Dallas, TX)
Rose Cousins (Halifax, NS)
Ronny Cox (Los Angeles, CA)
Crooked Brothers (Winnipeg, MB)
Joe Crookston (Ithaca, NY)
Anthony da Costa (New York, NY)
Kat Danser (Edmonton, AB)
Julian Dawson (Crewkerne UK)
Steve Dawson (Vancouver, BC)
Deering and Down (Memphis, TN)
The Dillonaires (Jackson, MS)
The Dirt Daubers (Paducah, KY)
Sam Doores and the Tumbleweeds (New Orleans, LA)
Sherman Downey and The Silver Lining (Corner Brook, NL)
The Dunwells (Leeds UK)
The Dust Busters (Brooklyn, NY)
Anderson East (Nashville, TN)
Tim Easton (Joshua Tree, CA)
Jonathan Edwards (Portland, ME)
Ana Egge (Brooklyn, NY)
Elephant Revival (Nederland, CO)
Carrie Elkin (Austin, TX)
Chad Elliott (Coon Rapids, IA)
Mike Farris (Nashville, TN)
Wendell Ferguson (Streetsville, ON)
Finnders & Youngberg (Fort Collins, CO)
Fish & Bird (Vancouver, BC)
Rosie Flores (Austin TX)
John Flynn (Brandywine, DE)
Steve Forbert (Nashville, TN)
The Forge (Boston, MA)
Gina Forsyth (New Orleans, LA)
Jaron Freeman-Fox and The Opposite Of Everything (Toronto, ON)
Mary Gauthier (Nashville, TN)
Genticorum (Montreal, QC)
Ghosts Along the Brazos (Austin, TX)
Eliza Gilkyson (Austin, TX)
Colin Gilmore (Austin, TX)
Suzie Glaze & The Hilonesome Band (Los Angeles, CA)
The Glo. (Memphis, TN)
Tracy Grammer (Greendfield, MA)
Dave Gunning (Pictou, NS)
Harpeth Rising (Bowling Green, KY)
Caleb Hawley (New York NY)
Susan Herndon (Okemah, OK)
Malcolm Holcombe (Weaverville, NC)
The Honeycutters (Asheville, NC)
Rita Hosking (Davis, CA)
Shane Howard (Killarney, Victoria AUSTRALIA)
Sierra Hull (Byrdstown, TN)
Humming House (Nashville, TN)
Greg Humphreys (Durham, NC)
David Jacobs-Strain (Eugene, OR)
Billy Jonas (Asheville, NC)
Irene Kelley (Nashville, TN)
The Kickin Grass Band (Raleigh, NC)
Will Kimbrough (Nashville, TN)
Lisa Lambert and The Pine Ridge Boys (Dennis, MS)
Jim Lauderdale (Nashville)
Melissa Lawson (Arlington, TX)
Joseph LeMay (Nashville, TN)
John Lilly (Charleston, WV)
Rebecca Loebe (Atlanta, GA)
Lonesome River Band (Meadows of Dan, VA)
Liz Longley (Nashville, TN)
The Lost & Nameless Orchestra (Austin, TX)
Lindsay Lou & the Flatbellys (Lansing, MI)
The Love Leighs (Austin, TX)
Cassie and Maggie MacDonald (Antigonish, NS)
Sarah MacDougall (Whitehorse, YT)
The Magnificent Sevens (Winnipeg, MB)
Mandolin Orange (Chapel Hill, NC)
Wil Maring (Cobden, IL)
Matt the Electrician (Austin, TX)
Kathy Mattea (Nashville, TN)
The Matthew Show (Dallas, TX)
Crys Matthews (Herndon, VA)
Maz (Montreal, QC)
Boris McCutcheon (Ojo Sarco, NM)
Joe McDermott/Radiola (Austin, TX)
Kelly McFarling (San Francisco, CA)
Tia McGraff (Port Dover, ON)
The McMenamins (Babinda, Far North Queensland AUSTRALIA)
James McMurtry (Austin, TX)
The Memphis Dawls (Memphis, TN)
The Milk Carton Kids (Los Angeles, CA)
MilkDrive (Austin, TX)
Mo' Mojo (Akron, OH)
Jonell Mosser (Nashville, TN)
Michael Martin Murphey (Pueblo, CO)
David Myles (Halifax, NS)
Drew Nelson (Grand Rapids, MI)
Sierra Noble (Winnipeg, MB)
Joe Nolan (Calgary, AB)
Oh Susanna (Toronto, ON)
Old Man Luedecke (Chester, NS)
Oliver Swain's BIG MACHINE (Victoria, BC)
David Olney w/ Sergio Webb (Nashville, TN)
the Olympic Symphonium (Fredericton, NB)
Panorama Jazz Band (New Orleans LA)
Ellis Paul (Charlottesville, VA)
Grant Peeples (Sopchoppy, FL)
Pert Near Sandstone (Minneapolis/St. Paul, MN)
Gretchen Peters (Nashville, TN)
Marcela Pinilla (Memphis, TN/COLOMBIA)
Qristina & Quinn Bachand (Victoria, BC)
Joel Rafael (Escondido)
Ragtime Jack Radcliffe (New Bedford, MA)
Hayley Reardon (Marblehead, MA)
Red Dirt Rangers (Stillwater,OK)
Red Tail Ring (Kalamazoo, MI)
Jimmy Robinson (New Orleans, LA)
Raina Rose (Austin, TX)
Rosie Burgess Trio (Melbourne, Victoria AUSTRALIA)
The Roys (Fitchburg, MA)
Ariel Rubin (Cambridge MA)
Melanie Safka (Nashville, TN)
Jerry Salley (Hendersonville, TN)
Danny Schmidt (Austin, TX)
Chris Scruggs (Nashville, TN)
Seryn (Denton, TX)
Will Sexton (Austin, TX)
Ruthie Shaffer (Memphis, TN)
Tommy Shaw (Montgomery, AL)
Lauren Sheehan (Portland, OR)
SHEL (Fort Collins, CO)
Side Street Steppers (Memphis, TN)
Sarah Siskind (Nashville, TN)
Putnam Smith (Portland, ME)
Angel Snow (Nashville, TN)
The Sojourners (Vancouver, BC)
Carolann Solebello (Brooklyn, NY)
Spring Creek (Lyons, CO)
Star & Micey (Memphis, TN)
Christopher Paul Stelling (Brooklyn, NY)
Nora Jane Struthers (Ridgewood, NJ)
Heather Styka (Chicago, IL)
Andra Suchy (Minneapolis, MN)
The Sweetness (Austin, TX/Toronto, ON)
Sofia Talvik (Stockholm SWEDEEN)
Aaron Lee Tasjan (Brooklyn, NY)
The Tequila Mockingbird Orchestra (Vancouver, BC)
Tiller's Folly (White Rock, BC)
Sara Tindley (Meerschaum Vale, NSW AUSTRALIA)
Jon Troast (Nashville, TN)
Hiroya Tsukamoto (Kameoka, JAPAN)
Tumbling Bones (Brooklyn, NY)
The Tuttles (Palo Alto, CA)
Mariel Vandersteel (Boston, MA)
The Vespers (Nashville, TN)
Jim "Kimo" West (Los Angeles, CA)
Jason White (Nashville, TN)
Whitetop Mountaineers (Whitetop, VA)
Webb Wilder (Nashville, TN)
Jason D Williams (Memphis, TN)
Nicole Witt (Nashville, TN)
The Wood Brothers (Boulder, CO)
Shannon Wurst & The Revolving Doors (Fayetteville, AR)
Frank Yamma (South Australia AUSTRALIA)
The Yearlings (Maslin Beach, SA AUSTRALIA)
Miles Zuniga (Austin, TX)
###