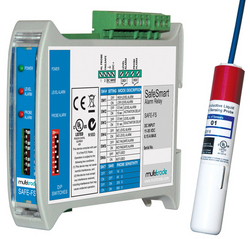 Brisbane, Australia (PRWEB) February 12, 2009
The new SafeSmart level alarm relay works with the new failsafe MultiTrode probe as the ultra-reliable solution to the "last line of defence" for high level alarms. The SafeSmart level alarm is the first in this new family of products to be released by MultiTrode, with two further SafeSmart backup controllers scheduled for release in the next 3 months.
Most wastewater utilities install independent high level backup alarms in case of failure of primary level devices or primary controllers. And around the world, utilities have been moving away from ball floats because they are prone to tangle up and often need cleaning to avoid false readings from fats, oils and grease.
The MultiTrode single sensor level probe eliminates the problems of ball floats and the new version - the fail-safe - eliminates the risk of wires becoming disconnected, or rats eating cabling. The SafeSmart level alarm relay continually checks for continuity - so if there is a problem with connection to the probe - an output is activated. This provides continuous verification to the utility that the probe is in operation.
The SafeSmart level alarm relay has 2 outputs - level alarm and loss of probe. These outputs can be normally open or normally closed. The product also has adjustable conductivity settings for different kinds of liquids, and adjustable delays.
About MultiTrode
MultiTrode, founded in 1986, is a specialist in pump station technology for water and wastewater utilities around the world. The company has offices in the USA, UK and Australia.
# # #