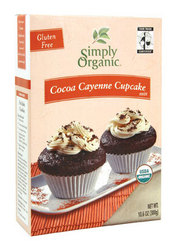 Our low-fat recipe requires eggs and water, no oil or butter
Norway, IA (Vocus) June 10, 2009
The trend started with the "Sex and the City" girls' visit to the Magnolia Bakery. After that, cupcakes and cookies became the "it" desserts. The question is which character would most likely have had an affinity for Cocoa Cayenne Cupcakes or Honeypot Ginger Cookies – the newest offerings in Simply Organic's gluten-free baking mix line? Quite likely, all four friends would be enamored with these, as well as the rest of Simply Organic's gluten-free baking mixes. Best of all, the mixes require only two or three added ingredients and are easily prepared in five minutes or less.
More than just a tasty and trendy dessert, the Honeypot Ginger Cookies contain Fair Trade Certified™ ground cloves from Sri Lanka. This marks the first time that a Fair Trade spice has been offered in a seasoning or baking mix in the U.S. Previously, the four original Simply Organic baking mixes were the first to offer a Fair Trade ingredient in any type of baking mix. Now, all six mixes offer consumers a socially responsible option of buying increasingly popular gluten-free, organic products.
Simply Organic developed its new baking mixes with emerging taste trends in mind. "Consumers are increasingly favoring unique flavor combinations that are nutritious, convenient to make, and affordable," says Kory Kazimour, Simply Organic Senior Brand Manager. "We applied our organic spice expertise to bring distinctive flavors to desserts with these easy-to-prepare mixes that cost less than 50 cents to make per cupcake or cookie."
Inspired by the enduring popularity of spicy Mexican food, Simply Organic Cocoa Cayenne Cupcake mix combines delicious Fair Trade cocoa powder and cayenne. "The touch of cayenne pepper actually enhances the chocolate flavor, much like the combination found in Mexican mole sauce," explains Kazimour.
Both the Cocoa Cayenne Cupcakes and the Honeypot Ginger Cookies contain brown rice flour, which provides nine grams of whole-grain goodness per cupcake and 12 grams per cookie. "Our low-fat recipe requires eggs and water, no oil or butter," adds Kazimour.
Kazimour notes the new Simply Organic baking mixes are also vegetarian and certified kosher, and are free of hydrolyzed vegetable protein, modified food starch, hydrogenated oils, and genetically engineered ingredients. With an 18-month shelf life, consumers can conveniently store the baking mixes in the cupboard for future use.
Inexpensively priced at $4.99 per box, these mixes can be used in a variety of ways. Recipe suggestions are provided on each package, as well as on the Simply Organic website. The new flavors complement the other Simply Organic gluten-free, Fair Trade Certified baking mixes, such as the popular carrot cake, cocoa biscotti, chai spice scone and banana bread mixes. All products display the USDA organic logo.
Most natural and organic retailers will have the new Simply Organic gluten-free baking mixes in their stores in the coming months, however, consumers can purchase them now online at http://www.simplyorganicfoods.com or by calling toll-free at 1-800-669-3275.
Note to editors: Product samples and photos are available upon request.
Simply Organic®
Simply Organic is an all-organic brand from Frontier Natural Products Co-op, offering an extensive and growing selection of certified organic spices, seasonings, baking flavors and mixes while supporting organic agriculture around the globe. By providing the best available organic seasonings and donating one percent of sales to organic agriculture and education, Simply Organic genuinely offers "Simply Healthy Living. Simply Great Taste." Find out more about Simply Organic at http://www.simplyorganicfoods.com.
Frontier Natural Products Co-op™
Founded in 1976 and based in Norway, Iowa, Frontier Natural Products Co-op™ offers a full line of natural and organic products under the Frontier, Simply Organic®, Aura Cacia® and Aura Cacia Organics® brands. Products include culinary herbs, spices and baking flavors; bulk herbs and spices; and natural and organic aromatherapy products. Frontier's goal is to provide consumers with the highest-quality organic and natural products while supporting and promoting environmental and social responsibility. For more information, visit Frontier's website at http://www.frontiercoop.com.
Media Contact:
Steve Krusie
319-227-7996 ext. 1359
###