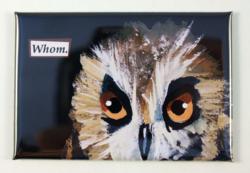 Mincing Mockingbird magnets are a big seller at Urban Bazaar
San Francisco, CA (Vocus/PRWEB) March 25, 2011
Conveying the hilarity of awkward moments is a subtle art. Mincing Mockingbird magnets make the humor stick. Their collection of artful and disturbingly cute magnets is now available at Urban Bazaar, a San Francisco gift shop that sells fair trade goods and locally made jewelry in the Inner Sunset District.
"Mincing Mockingbird magnets are a big seller at Urban Bazaar," said co-owner of Urban Bazaar Briana Bers. "It's not often one can call a friend a whore or laugh about a mom throwing up in their kids' mouth and have it be a non-offensive/awkward moment!"
Mincing Mockingbird is a Los Angeles-based art company that specializes in handcrafted magnets and cards. Their designs feature beautifully painted or drawn images with witty remarks. For example, a blue bird drawn in careful detail includes the juxtaposing text, "You're a whore and that makes me sad." The company's humorous magnets and cards are sold online and in retailers all over the country.
"We produce magnets of uncanny, awkward and often disturbing humor," said Kim Bagwell of Mincing Mockingbird. "There is almost no limit to what can be held up by these magnets, as long as it is paper."
Urban Bazaar sells Mincing Mockingbird magnets, as well as items that support the environment and livelihoods of artisans in the community and around the world. Their mission is to keep handcrafted art forms alive in the U.S. as well as in developing countries. By selling lovingly made clothes, art, and locally made jewelry in San Francisco, Urban Bazaar counters the industrially consumptive mindset.
"We are a society that is so used to buying all of our goods from shelves and racks," said Bers. "We often forget that there is a face behind every product we purchase."
Urban Bazaar's inclusion of Mincing Mockingbird magnets offers customers a hilarious and artful way to support local art.
For more information about Mincing Mockingbird magnets or any of Urban Bazaar's products, visit their boutique at 1371 9th Avenue in San Francisco, call them at (415) 742-8311, or visit their website at http://www.UrbanBazaarSF.com.
About Urban Bazaar
Urban Bazaar, open since July 2010, is an independent San Francisco gift shop specializing in Fair Trade and locally handmade gifts. Their mission is to provide customers with creative, high quality, handcrafted goods that are affordable, eye catching, ethically sourced, and eco-friendly. Located at 1371 9th Ave (between Judah and Irving Streets), hours are Tuesday-Saturday 11am-7pm and Sunday 10:30am-5:30pm.
###