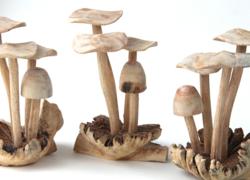 We couldn't have expanded our business so quickly if we didn't have such great, devoted customers who truly appreciate the work we do
San Francisco, CA (Vocus/PRWEB) June 10, 2011
Urban Bazaar, a new handcrafted gift store in San Francisco in San Francisco's Inner Sunset District, is continuing to expand by launching an online store. The website, http://www.UrbanBazaarSF.com, has been an informational website only up until now, but on June 10th, the online store will go live. This move is a big expansion for the new business, which has only been open in its storefront at 1371 9th Avenue in San Francisco since July 2010. The online store will feature select Fair Trade and handmade gifts that are available in the physical store, as well as a few web-exclusive items.
Like the physical store, Urban Bazaar's online store will stock unique and affordable handcrafted, Fair Trade goods, as well as products made in the San Francisco Bay Area and around the United States. The online store's product categories include cards, jewelry, accessories, home décor, bath and body products, and baby clothing. A few of the items, like luggage tags made from cruelty-free leather by Fair Trade-certified artisans in India, will be available exclusively online.
"We are excited to announce the launch of our online store because it shows that a business like ours—a business that is based the on ethical principles of Fair Trade, environmental responsibility, and promoting the handcrafted arts—can grow even in tough economic times," says owner Brandi Chalker. "It's a sign that consumers are aware of how their shopping dollars can have an impact, and are still making positive choices even if they're more cash-strapped than they were a few years ago."
"Our customers and the community we're creating around Fair Trade and handcrafted art are so supportive of us that they voted us in as Best Boutique in San Francisco only a few weeks ago. Because of them, we're now able to expand our handcrafted offerings to people around the world through our website. We couldn't have expanded our business so quickly if we didn't have such great, devoted customers who truly appreciate the work we do," says co-owner Briana Bers.
For more information about Urban Bazaar, visit their website at http://www.UrbanBazaarSF.com, or visit the store at 1371 9th Ave.
About Urban Bazaar
Urban Bazaar, open since July 2010, is an independent San Francisco gift shop specializing in Fair Trade and locally handmade gifts. Their mission is to provide customers with creative, high quality, handcrafted goods that are affordable, eye catching, ethically sourced, and eco-friendly.
###