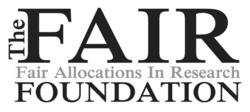 HIV/AIDS funding should not be exempt from helping solve our country's budget crisis.
Palm Desert, CA (PRWEB) May 25, 2011
The FAIR (Fair Allocations in Research) Foundation's 29-member Board of Directors, which includes transplant surgeons, medical directors, dentists, pharmacists and patient advocates, has boldly requested to each member of the Senate and House Appropriations Committees that "major" cuts be made to the $28.3 Billion HIV/AIDS 2012 budget request.
FAIR's Board emphasized the spectacular success that has been achieved against HIV disease as evidenced by the 99 percent reduction in deaths of newly infected California patients from 9,890 to under 200.
Included is a request that a portion of this reduction in HIV funding now be directed to other more deserving diseases that have not had such success.
FAIR's Board provided the Committee members with a video of America's top HIV researcher who oversees the $3 billion HIV research budget acknowledging his "breathtaking success" with "HIV patients living normal lives."
Many politicians are courageously admitting the need to make difficult choices in cutting federal expenditures with the goal of reducing our country's debt-burden crisis.
Indeed, if Social Security, Medicare and other entitlements are now being considered for cuts, no expenditure should be off limits.
The FAIR Foundation notes that because our government has now spent over one-third of a trillion dollars on HIV disease, a non-entitlement expense, with cash, care, treatment, housing, etc., it is now time for the $28.3 Billion HIV/AIDS Budget request to be included for major cutbacks.
The Board's full communication to the Senate and House Appropriations Committees can be viewed here.
The FAIR Board of Directors includes:
Pedro W. Baron, MD, Director of Pediatric and Adult Liver Transplantation; Loma Linda University Medical Center (LLUMC)
Phil Berry, M.D., Past President, Texas Medical Association; President, Texas Medical Assoc. Foundation
Waldo Concepcion, MD, FACS; Chief of Clinical Transplantation, Chief of Pediatric Kidney Transplantation, Stanford University School of Medicine
David Courtney, Patient Advocate & post-double-lung transplant: Alpha-1-Antitrypsin disease; VP, Director of PR, Presumed Consent Foundation
Leigh Aveling, D.Min. MFT, Chaplain: LLUMC and Loma Linda University (LLU) Behavioral Medicine Clinic; Faculty of Religion, LLU
Art Curley, Attorney, President, Bradley Curley Asiano Barrabee & Crawford, PC. Educates on the special legal status that AIDS has been granted and its attendant obligations on professionals.
Richard Darling, DDS; FAIR Founder, President & CEO; National Public Citizen of the Year (NASW)
Kress Darling; Patient Advocate, COPD, Migraine Headache & Osteoporosis
Michael E. de Vera, MD, FACS, Director and Chief of Transplant Services, LLUMC Transplant Institute
John J. Fung, M.D., Ph.D., FACS, Chairman, Department of General Surgery; Director, Transplant Center, Cleveland Clinic Foundation
Robert Gish, MD, Co-Director Center for Hepatobiliary Disease and Abdominal Transplantation, UCSD School of Medicine
Charles J. Goodacre, DDS, MSD; Dean of the LLU School of Dentistry
Ray Hill, HCV & AIDS activist; ACLU Lifetime Achievement Award for advancing the rights of LGBT citizens, voted "gay hero" seven years in a row by the gay community of Houston, Texas
Donald Hillebrand, MD, Hepatologist; Medical Director, Liver Transplantation, Scripps Green Hospital, La Jolla, CA
Norman Kay, Patient Advocate: Prostate Disease, Maui, HI
Jacqueline Marcell, B.S., Advocate for Alzheimer's, Eldercare Awareness and Reform. Author of ELDER RAGE, Founder of COPING WITH CAREGIVING radio show.
Melba R. Moore, MS, Commissioner of Health, St. Louis, MO City Department of Health
Leonard J. Morse, MD; Board of Directors: Worcester AIDS Project Workshop; Chair Emeritus, American Medical Association's Council on Ethical and Judicial Affairs, Past-President, Massachusetts Medical Society
Okechukwu N. Ojogho, MD, FACS, Surgical Director, Kidney Transplant Program, Providence Sacred Heart Medical Center & Children's Hospital, Spokane, WA
Thomas G. Peters, MD, FACS, FASN, Director, Shands Jacksonville Transplant Center; Chief, Transplant Service Shands Jacksonville Medical Center
Bill Remak, Chairman, California HCV Task Force; Steering & Communications Committee Member, California Chronic Care Coalition
Sandy Rogers, Patient Advocate: Parkinson's Disease & Stroke, Maui, HI
Philip Rugo, Gay Patient Advocate for Alcoholic Liver Disease and HCV; Past Director, Harrison House Substance Abuse Rehabilitation Center
Deborah Sutton, Chief Executive Officer for the Riverside chapter of CASA (Court Appointed Special Advocates), Riverside, CA
Cathy Teal, FAIR Director of Communications and Public Outreach, La Quinta, CA
Richard Swabb, M.D., Board Certified in Nephrology and Board Certified in Internal Medicine, LLUMC
James M. Ward Captain, SC, USNR (Ret.), Patient Advocate: Cardiovascular Disease, San Diego, CA
Jill Weissman, PharmD, Transplant Pharmacist; Assistant Professor, Department of Pharmacy Practice, LLU School of Pharmacy
###