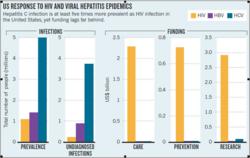 We urge you to now focus your time and exorbitant resources on battling two of the greatest killers of HIV/AIDS patients, namely, viral hepatitis and diabetes.
(PRWEB) July 20, 2011
The FAIR (Fair Allocations in Research) Foundation's Board of Directors has issued an opinion editorial praising HIV advocates and researchers while asking, "What is your next challenge now that you have achieved such great success against HIV?"
FAIR urges HIV advocates and researchers to now consider focusing on battling two of the greatest killers of HIV/AIDS patients: viral hepatitis and diabetes.
FAIR points out that their success in battling HIV is best stated by America's top HIV/AIDS researcher and the man who oversees their $3 billion research budget, Anthony Fauci, MD.
As far back as 2009 Fauci announced on CNN that his team had achieved "breathtaking success" with "HIV patients living normal lives."
In addition, deaths from HIV/AIDS have plummeted as seen in California's newly infected HIV patients: from 9,890 deaths in 1992 to under 200 now. (Decreasing death totals for each state may be viewed here.)
FAIR's Board notes that HIV advocates have recognized as far back as 2005 that hepatitis C is killing more HIV/AIDS patients than the opportunistic infections that used to be so fatal.
The estimate of the number of Americans infected with hepatitis C is 5 million—five times greater than the estimates for those infected with HIV disease and The Institute of Medicine, part of the US National Academy of Sciences, has warned that viral hepatitis will remain out of control unless adequate resources are devoted to prevention, control and surveillance.
Also of concern to HIV patients co-infected with hepatitis C is the estimate that 24,000 patients will be diagnosed with primary liver cancer due to hepatitis.
FAIR's Op-ed points out that diabetes is a major killer of HIV/AIDS patients. In reality, diabetes kills more patients in the USA than AIDS and breast cancer combined.
FAIR's Board asks that HIV advocates reflect on the fact that $3,047 is presently being spent on bio-medical research for each of their friends and loved ones solely infected with HIV but for those co-infected with HIV and hepatitis C and/or diabetes, only $23 and $42 are being spent respectively on the latter two illnesses. That simply does not make sense in the battle to extend the lives of these co-infected patients and all others suffering exclusively from hepatitis C and diabetes.
The FAIR Board asks, "Isn't it time we all worked together to battle the diseases that are killing most HIV/AIDS patients, indeed, many Americans?"
The complete opinion editorial may be viewed on the FAIR Foundation's website here.
# # #