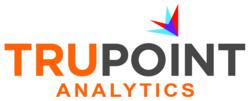 Customers have told us they love how simple and easy it is to get the reports and analytics they need to manage their compliance demands.
Charlotte, North Carolina (PRWEB) February 09, 2012
For some bankers, the Jan. 24th launch of TRUPOINT Analytics couldn't have come at a better time. In the first two weeks, 159 institutions requested access to the new, on-demand platform for reports, dashboards and analytics.
"For bankers saddled with any data-driven task – whether it's a self-assessment, preparing for a compliance exam or analyzing updated HMDA data – TRUPOINT Analytics simplifies their job," said TRUPOINT Partners CEO and President Trey Sullivan. "Customers have told us they love how simple and easy it is to get the reports and analytics they need. One customer told us, 'It's almost too good to be true.'"
The positive reaction helps to reinforce the commitment Sullivan and his team at TRUPOINT Partners have made to help community-based financial institutions find easier, more-cost effective ways to manage compliance demands and meet their business goals.
"We started developing this tool more than a year ago, after talking to banking executives who were feeling overwhelmed, understaffed and unprepared for additional regulatory pressure and the problems it could create," he explained. "We answered the concerns of the market with the talent and experience of our workbench, which is what we call the team of data analysts, statisticians, demographers, bankers, consultants and former regulators who collaborated to make TRUPOINT Analytics a reality."
TRUPOINT Analytics provides financial-service companies a way to quickly, easily and securely access reports that reveal key insights about:

Peer reporting; and
General management and marketing issues.
Information for the reports comes from public, private and proprietary data sets. Executives can select individual reports or a reporting suite (including free reports using data from their own institution) to preview, print or share.
The platform also features a secure vault for every subscriber, providing the highest level of protection for storing reports and backing up important files.
For many customers, the best news is that the new analytics and reporting platform is only supporting — and not replacing — the human support and guidance they have come to expect from TRUPOINT Partners' customer service team.
About TRUPOINT Partners: TRUPOINT Partners specializes in data analytics to help financial institutions with compliance, marketing and management. Its new tool, TRUPOINT Analytics, enables financial institution executives to access, within minutes, hundreds of analytics and reports using public, private and proprietary data sets. Visit http://www.trupointpartners.com for more information.
# # #