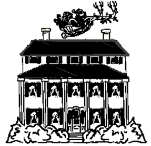 Southport Family Dental is excited to sponsor a room at Santa's House and support Fairfield charities making a difference in our community.
Fairfield, CT. (PRWEB) November 29, 2012
Salvatore M. Pizzino, D.D.S., Fairfield County dental practitioner, helps sponsor the Junior Women's Club of Fairfield's "A Visit to Santa's House." Each year the Junior Women's Club of Fairfield, an organization that promotes community service work, transforms the historic Burr Homestead into Santa's Home. The event provides entertainment and holiday crafts for kids such as photos with Santa, a visit from Frosty and Rudolph and more. Last year, over 2,500 people attended and enjoyed the holiday festivities.
This cherished Fairfield CT. tradition, "A Visit to Santa's House," raises money for The Thomas Merton Family Center, a Bridgeport-based facility that provides high-risk families with food, clothing, and parental and educational support. According to Junior Women's Club of Fairfield CARE Committee, "its goals are to provide family services that strengthen the family through parent education, creative play activities for parents and their pre-school aged children and also to identify developmental delays in the children." In addition, this year the Junior's Women's Club will also benefit The Fairfield Storm Sandy Relief Fund.
Last year, Dr. Pizzino of Southport Family Dental, who was recently named Top Dentist in General Dentistry by the Best of Gold Coast 2012 awards, was one of many local sponsors who spread Holiday cheer at Santa's House and helped support The Thomas Merton Family Center. According to the Junior Women's Club of Fairfield, the event raised $17,000 in donations. This year, Dr. Pizzino and staff are looking forward to continuing their support for this event.
Residents can enjoy the holiday festivities at "A Visit to Santa's House," on Saturday, December 8th, 2012 and Sunday, December 9th, 2012 at the Burr Homestead. The Homestead is located at 739 Old Post Road, Fairfield, CT. Dr. Pizzino and Associates, along with the other sponsors and volunteers, look forward to presenting Santa's House and making a difference in the community.
About Southport Family Dental
Southport Family Dental is a Fairfield County dentist practice dedicated to making its patients feel comfortable while providing them with quality dental services in a relaxed, modern and caring environment. Dr. Salvatore Pizzino and his associates are passionate about giving patients new reasons to smile by focusing on the long-term health of their teeth and mouths and the aesthetic beauty of their smiles. From routine exams, cleanings and fillings to Invisalign, restorative work and cosmetic services, the entire staff at Southport Family Dental aims to exceed the expectations of their patients at every visit by taking the time to listen to their needs and never compromising on quality. Visit Southport Family Dental on Facebook.