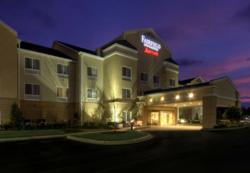 Joining in on supporting the team and the tireless fans that attend game after game, the Fairfield Inn & Suites Auburn Opelika Hotel is offering a special low rate
Opelika, AL (PRWEB) December 17, 2012
After stepping foot in Opelika, it's clear that the town is crazy for Auburn University Tiger basketball. Joining in on supporting the team and the tireless fans that attend game after game, the Fairfield Inn & Suites Auburn Opelika Hotel is offering a special low rate throughout the men's and women's basketball seasons.
One of the most comfortable hotels near Auburn University, the Fairfield Inn & Suites Auburn Opelika Hotel tips off the season with rates as low as $89 per night. Each spacious room at the hotel affords fresh amenities such as an in-room refrigerator, microwave, 32-inch high-definition television and complimentary high-speed Internet access. A 24-hour fitness center lets would-be basketball stars keep at their routine even on the road, while a convenient complimentary breakfast buffet in the morning provides some much-needed energy for a full game of cheering on the Tigers.
When it is time for tip off, guests need only travel a few minutes to get to Auburn University, less than 7 miles away. At campus, enjoy top level college basketball as the Auburn University Tigers face off against Florida State (Jan. 2), LSU (Jan. 9), Kentucky (Jan. 19) and Ole Miss (Jan. 26). The women's basketball team offers equal amounts of excitement as it squares off against Arkansas (Jan. 3), Ole Miss (Jan. 10), Tennessee (Jan. 17) and LSU (Jan. 31).
Cheer the Tigers on to victory and book a room today at one of the best hotels near Auburn University.
About the Fairfield Inn & Suites Auburn Opelika Hotel
Located near Auburn University, the Fairfield Inn & Suites Auburn Opelika Hotel invites travelers to relax in spacious hotel rooms and inspiring public spaces. One of the most popular hotels in Tiger Town, the Fairfield Inn & Suites offers amenities to make guests feel at home. Start the morning with a complimentary hot breakfast buffet featuring Jimmy Dean breakfast sandwiches and Bold Beginnings coffee. Connect to complimentary high-speed wired and wireless Internet access for work and pleasure. A 24-hour fitness center gives guests on the go a chance to continue their workout. The amenities and comforts continue in each of the 74 well-appointed rooms which includes a 32-inch TV with premium channels, plush bed and in-room coffeemaker. Whether taking a dip in the indoor pool or chatting with friends and fellow travelers at the BBQ picnic area, guests will find the Fairfield Inn & Suites Opelika Hotel the perfect choice for travelers heading to Auburn University and the surrounding area. For information, visit http://www.marriott.com/CSGAO