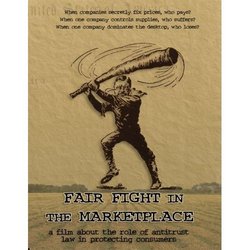 Fair Fight in the Marketplace
San Francisco, CA (PRWEB) September 16, 2009
The new Matt Damon comedy "The Informant" is based on a real-life corporate price-fixing scandal broken up by a whistleblower and the enforcement of antitrust laws. The true story of that scandal and the relevance of antitrust laws today are highlighted in a new award-winning documentary, "Fair Fight in the Marketplace".
"Fair Fight" includes a segment that presents the facts of the Archer Daniels Midland (ADM) case, including some of the actual undercover FBI footage recorded by former ADM employee Mark Whitacre, the main character played by Matt Damon in "The Informant". The segment also includes commentary from Department of Justice officials and others, and shows the negative impact of ADM's price-fixing on farmers and consumers.
The Archer Daniel Midlands video segment is available to view on YouTube.
"Fair Fight in the Marketplace" also presents a short history of antitrust legislation in America and highlights two other antitrust cases to demonstrate how antitrust laws protect American consumers by ensuring that corporations compete fairly in the marketplace. The two other cases are:  Mylan Pharmaceuticals, which inflated prices by cutting off supplies to competitors, and Microsoft, which bullied Netscape to capture the internet browser market.
The 30 minute film, winner of the prestigious Cine Golden Eagle Award, is hosted by NPR and Fox News commentator Mara Liasson and is available for educational and group use from The Video Project, a national distributor of social issue media programs.
For more information on "Fair Fight in the Marketplace", and to view the first few minutes of the film visit The Video Project web site.
About The Video Project
Based in San Francisco, The Video Project is a 25 year-old national distributor of social issue documentaries and educational films, including Oscar and Emmy winners.
# # #