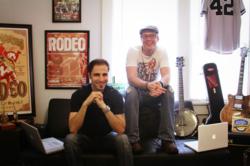 Nashville, Tennessee (PRWEB) July 10, 2012
Nashville-based digital marketing company, Noise New Media, celebrates its fourth year of business as the preeminent social media expert for fairs, festivals and rodeos across the U.S., engaging a new generation of fans with innovative online marketing campaigns and producing record-breaking attendance numbers.
Founded in 2008 by tech guru Steve Richo and award-winning Australian recording artist Mark O'Shea, Noise New Media's flagship rodeo client is the Houston Livestock Show and Rodeo™, which boasts the single largest attended entertainment event in North America with an annual attendance of more than two million people, and a past performer list that includes The Black Eyed Peas, KISS, Justin Beiber, Keith Urban, Brad Paisley, and Beyoncé.
"The Houston Livestock Show and Rodeo™ has worked with Noise New Media since 2008, when we began our heavy social media outreach," said Clint Saunders, the Show's Managing Director of Communications. "Since then, we have seen a significant growth in not only our online fan interaction, but in attendance as well. The Houston Livestock Show and Rodeo is the world's largest livestock show and rodeo, and during our 2012 Show, we set the paid Rodeo attendance record with 1,283,419 tickets sold, and recorded a total attendance of 2,257,970. It is no doubt that this significant growth was largely made possible through the social media efforts and the help from Noise New Media," Saunders continued.
Additional fair and festival clients include the San Antonio Stock Show and Rodeo, The Big E (Eastern States Exposition), Indiana State Fair, Colorado State Fair, and River City Rodeo. They also regularly handle promotional projects for country superstars Jason Aldean, Rascal Flatts, Steve Azar and a variety of record labels and management companies.
Co-founder Steve Richo reflected on the past four years saying, "Agricultural Fairs and Festivals and the sport of Rodeo all have a massive appeal with both rural and urban youth throughout the U.S."
When asked about the secret to Noise New Media's success in the market he added, "I believe that our biggest strength has been our patient approach and sensitivity when introducing new mediums for fan engagement to otherwise traditional organizations." Richo answered.
Prior to starting Noise New Media, Richo served as the Vice President of New Media at a Music Row record company, and is a recognized leader in the technology industry for the last 12 years.
Along with his wife Jay, Mark O'Shea is one-half of the award-winning country music duo, O'SHEA.
Through the promotional efforts of Noise New Media, O'Shea and Richo developed a quality online brand for the duo, resulting in the signing to Sony Music Australia in 2011. Since then O'SHEA has had three No. 1 music videos, produced by Noise New Media, and in January 2012, won the Country Music Association of Australia New Talent of the Year Award, the equivalent of the CMA Horizon Award.
As experts in the fair, festival and rodeo circuit, O'Shea and Richo have been tapped as keynote speakers at the 2011 Professional Rodeo Cowboys Association National Convention in Las Vegas, and speakers at the International Entertainment Buyers Association (IEBA), North American Livestock Show and Rodeo Managers Association, International Association of Fairs and Expositions (IAFE), and National Finals Rodeo.
About Noise New Media:
Since 2008, Noise New Media has combined innovative social media strategy with digital applications, development and campaigns. Their low-fi guerilla approach to music marketing has helped clients raise their profile while engaging with their target audiences through the use of the new media technologies. Founded by Steve Richo and Mark O'Shea, Noise New Media is based on Music Row in Nashville, Tn.