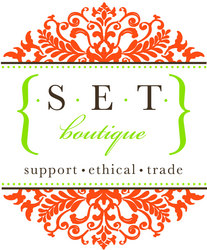 Before the Give&Get program there were two gift options; a product or a donation. Now it can be one package
San Francisco, CA (Vocus) November 1, 2010
SET Boutique (Support Ethical Trade) continues to expand its Give&Get program by adding a fourth non-profit partner. The program was created in response to consumer demand for gifts with more substance. Sending donations on the behalf of friends, co-workers, or family members is rising in popularity for gift giving. SET Boutique owner Lindsay Sullivan saw an opportunity to fill a gap in the gifting market. "Before the Give&Get program there were two gift options; a product or a donation. Now it can be one package". Sullivan explains that even with the popularity of donation gifts the majority of people want their recipient to unwrap a tangible present. The Give&Get program makes the act of donating more accessible and integrated into the shopping experience.
How it works:
Shop for fair trade clothing and accessories at SET Boutique, and add items to the cart as usual. Then visit the Donation Directory to choose a non-profit organization that cares for victims of human trafficking, or prevents at risk youth from being vulnerable to trafficking. Customers can make a donation as small as $10.00 to one of these organizations, and they receive a personalized thank you card, free gift wrapping, and a coupon for 20% off their next purchase. This is all packaged together with their merchandise. The result is a gift that is personalized to the recipient, spreads awareness, and brings more meaning to the individual items.
The Partners:
Four non-profits have joined the Give&Get program to date, and each have an exceptional mission. SAGE (Standing for Global Exploitation) raises awareness about commercial sexual exploitation, and provides outreach and services to survivors. Freedom House opened the first shelter solely for victims of human trafficking in the San Francisco Area. They provide long term shelter to survivors, as well as legal, health, and reintegration assistance. ECPAT works to build collaboration among local civil society actors and the broader child rights community to form a global social movement for protection of children from sexual exploitation. And the newest partner in the Give&Get program is Project Enlighten whose mandate is to create funding for a variety of education and skills training programs for children to succeed in Cambodia, Laos, Burma, and Thailand. One powerful way to prevent human trafficking is to prevent at-risk youth. SET Boutique is proud to include Project Enlighten in the Give&Get Directory because they help vulnerable children gain education and avoid trafficking predators.
Non-profit organizations who would like to join the Give&Get program can contact SET Boutique for more information.
# # #