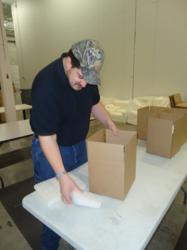 This change in product use is a significant investment in our community and planet and benefits the patients we serve.
MINNEAPOLIS (PRWEB) January 16, 2013
Fairview Pharmacy Services, one of the nation's largest health system-based pharmacy organizations, has introduced the use of biodegradable coolers to ship temperature-sensitive medications. Fairview Pharmacy Services' use of this "green" technology will prevent an estimated 44,000 polystyrene coolers from reaching landfills in 2013 and serves as a model for organizations seeking environmentally friendlier ways to ship temperature-sensitive materials.
Like many health systems and pharmacies, Fairview Pharmacy Services previously used coolers made from polystyrene foam, commonly known as Styrofoam™, to ship medications that must maintain a certain temperature. Polystyrene takes hundreds of years to decompose and most recyclers do not accept it at curbside pickup.
Fairview Pharmacy Services began using the new, non-toxic coolers in early January after more than a year of researching and testing alternative "green" solutions that would provide insulation properties equivalent to polystyrene. The company expects to ship temperature-sensitive medications to approximately 12,500 patients this year who will no longer have to find a way to dispose of the polystyrene products.
"This change in product use is a significant investment in our community and planet and benefits the patients we serve," says Kyle Skiermont, director of specialty and infusion operations at Fairview Pharmacy Services.
StarchTech Inc., an eco-friendly packaging company based in Golden Valley, Minn., is supplying the coolers that are made from Green Cell Foam, a non-toxic, renewable cornstarch material that is easy to compost or recycle. The material meets American Society for Testing and Materials' standards for biodegradability and the highest standards for patient safety and Board of Pharmacy regulations.
Merrick Inc., a local nonprofit organization that provides vocational support for adults with disabilities and empowers them to build skills and reach personal goals, is providing crews to assemble the coolers before shipment.
Fairview Health Services, the parent company of Fairview Pharmacy Services, has taken steps to minimize its carbon footprint. It received Practice Greenhealth's prestigious System for Change Award in 2011 and 2012 and Partners for Change Award with Distinction in 2012 along with the Minnesota Governor's Award for Pollution Prevention in 2011. In addition, the Fairview Green Committee, formed in 2009, continues to find ways to reduce solid, toxic and hazardous waste and energy use, purchase more environmentally friendly products, build eco-friendly facilities and support healthy and sustainable food choices.
Fairview Pharmacy Services, LLC, a business unit of Fairview Health Services, was established in 1990 to provide pharmacy services that cover the entire spectrum of patient needs and ensure the safest and most effective use of medications. With more than 30 retail pharmacies across Minnesota in addition to compounding, home and outpatient infusion, long-term care, mail order, medication therapy management and specialty services, Fairview pharmacists are an integral part of the health care delivery team. Visit http://www.FairviewRx.org for more information and connect with us on Facebook and Twitter.