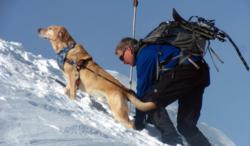 "I think that the adventures of Quinn and I serve as living proof that through hard work, perseverance, and most importantly, believing in yourself, you can achieve whatever you set your mind to." Randy Pierce
Needham, MA (PRWEB) April 01, 2013
Fairway Independent Mortgage in Needham MA announced today their sponsorship of a local man's efforts to inspire children to achieve their dreams by believing in their own abilities. Throughout the 2013-2014 school year Fairway has committed to helping Randy Pierce achieve his goal of reaching over 48,000 school children through school based visits featuring his hour long presentation, Q & A and of course, time with his guide dog, the Mighty Quinn.
In 1989, at the age of 22, Randy began to lose his vision due to an unknown neurological disorder and by the year 2000 Randy lost all sight. In 2003 Randy faced more challenges where his positive approaches to adversity were key to survival. The unknown neurological disorder which ended Randy's vision attacked in other ways, resulting in Randy's move to a wheelchair.
Ultimately, Randy spent 2004-2006 working to get out of that chair. This tested his perseverance and motivation most of all. Quinn was specially chosen and trained to handle the mobility aids Randy needed at that time. It was a slow process but, again, through constant determination, the support of friends, a network of professionals, and of course Quinn, Randy once again enjoys his daily walks and runs with Quinn.
"I think that the adventures of Quinn and I serve as living proof that through hard work, perseverance, and most importantly, believing in yourself, you can achieve whatever you set your mind to," says Randy.
Randy's presentations can be tailored for children ages 6-18 and combine poignant personal experiences, fascinating facts, and themes of adventure and optimism to engage and captivate kids -- something that Quinn, Randy's Guide Dog, is also an expert at! By prompting kids to think, "What can I accomplish?" Randy leads them to realize it's within their power to define this for themselves, and it's within them to embrace and achieve any goal.
Fairway Independent Mortgage (Needham) regularly supports community organizations and charitable efforts through their Fairway Gives Back program. Having seen Randy speak at an industry conference, Regional Vice President Amy Tierce was convinced his message would resonate with the real estate community and beyond.
"Randy's sharing of his experience as a means of helping people overcome their own fears and obstacles is a wonderful gift that so many can benefit from," says Tierce. "Our connection to communities through our business and referral partners provides a vast network of people to share Randy's message with, and we are especially excited to provide school children with this inspiring opportunity."
Although Randy lives in New Hampshire, he is able to travel to Massachusetts regularly via a network of volunteers who help transport him to various speaking engagements. Randy and Fairway have set a goal of 16 speaking engagements over the coming 12 months and have already begun scheduling for the spring.
Those interested in scheduling Randy to speak at a MA based school or child based program should contact Fairway at 781-719-4682 or via email at betsyb(at)fairwaymc(dot)com
Fairway Independent Mortgage Corporation's Needham office was started by Amy Tierce in 2006 and has grown to 29 employees including a satellite branch in Holden, MA. The Needham branch closed 400 million in loans in 2012 and has been the top producing Fairway branch nationwide for the last five years. Working with the top national and regional investors to provide customers the best rates and programs available, the branch offers personal care to meet individual needs. To reach the Needham office, call 781-719-4664 or visit http://www.fairwayne.com.
###