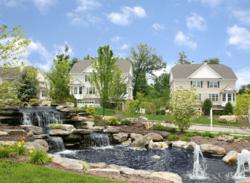 Ranch homes with luxury features, beautiful landscaping and exciting activities and lifestyle are a winning combination that sets Fairways apart in Orange County, NY
Wallkill, NY (PRWEB) May 26, 2011
GDC Homes announced the development of a new ranch home model at The Fairways at Wallkill, a new home and townhome community in Orange County, New York. The Pinehurst model is intended to address the increased demand for real ranch homes in the area. The announcement is marked by the opening of a fully furnished Pinehurst ranch model house that can be viewed at The Fairways at Wallkill in Wallkill, NY.
The move came as a result of market research conducted by GDC that indicated a tremendous demand for true ranch homes in Orange County, NY. With escalating land costs in the New York area, real estate developers within Orange County as well as Rockland County, NY and Bergen County, NJ, have moved away from building ranch homes that typically require more land than two-story homes. The research conducted by GDC analyzed the number of ranch homes that have been developed in recent years within Orange County, Rockland County and Bergen County with specific focus on luxury home communities in Wallkill, NY, as well as the neighboring New York towns of Goshen, Monroe and Warwick. The scarcity of ranch homes in the New York area and the rising demand for this type of home is what prompted GDC to recognize the need to develop the Pinehurst ranch home model.
The decision to add a ranch-style house model to The Fairways at Wallkill was made by Martin Ginsburg, President of GDC Homes and a renowned architect in the New York tri-state area. The Pinehurst model is a result of Ginsburg's vision to combine luxury features, high-quality materials, exciting design and an extremely functional layout into a reasonably priced ranch model. "We identified a niche in the market that was being ignored," commented Ginsburg. "It's difficult to find ranch homes in Orange County. Other new single-family home and townhome communities that are being developed in the area, like in Wallkill, Monroe and Goshen are not offering ranch homes. We feel that this is a fantastic opportunity to address the real needs of home buyers and provide them with great value and an exciting lifestyle." He added that they have already received a great deal of interest about the Pinehurst model and that only a limited number of ranch models will be built at Fairways.
Ranch-style houses are known for their single-story floor plans that offer certain distinct advantages over multi-story homes. Many individuals experience ranch homes as feeling more spread out and spacious. Others feel that it is much more convenient to have everything on one floor with no need to keep going up and down stairs. Eliminating stairs offers notable safety advantages to families with small children as well as to senior adults who are often interested in first floor master bedroom ranch homes. Individuals with arthritis or other health and lifestyle issues that make climbing stairs difficult also benefit from living in a single-story ranch home. The cost to cool ranch homes in the summer is typically much lower than multi-story homes since only one level needs to be cooled.
The new Pinehurst ranch model will be one of 10 home styles offered at The Fairways at Wallkill's townhouse and single-family home community. Homes and townhomes were designed to be top-quality with premium materials, appliances and fixtures at reasonable prices. The Fairways at Wallkill is positioned as a luxury community that offers a wide variety of activities and an exceptional lifestyle. The community features beautifully landscaped grounds with a huge number of trees, shrubs, green plant life and flora and is adjacent to the well-known Orange County Golf Course. There is a heated pool, kiddie pool and sundeck as well as a putting green. Homeowners have full access to a clubhouse that includes a "great" room, lounge, kitchen for events, pool table and card tables, library and a business center. The Fairways also has a fitness center with the latest exercise equipment and a walking circuit. "Ranch homes with luxury features, beautiful landscaping and exciting activities and lifestyle are a winning combination that sets Fairways apart in Orange County, NY", Ginsburg commented.
The Fairways homes and townhomes were developed in an area that was intended to be central to shopping, restaurants, activities and attractions. The homes are only 30 minutes from Goshen, NY and Monroe, NY, an hour from White Plains, NY and an hour and 20 minute drive to New York City. The New Jersey Transit Railroad Station is nearby and Stewart International Airport is only 30 minutes by car. The homes are located adjacent to the historic Orange County Golf Club and minutes from a wide range of shops, markets and restaurants as well as the Galleria at Crystal Run Mall that serves the Hudson Valley and Catskills regions. Woodbury Common Premium Outlets, a well known shopping destination, is only 15 minutes away in the Monroe-Woodbury area. The area offers a wide variety of cultural events, performing arts, museums and historic sites. Outdoor activities in the area include golf, hot air ballooning, hiking, fishing, bird watching and horseback riding.
More information about The Fairways at Wallkill and the Pinehurst ranch home model is available at http://www.fairwaysorangecounty.com
# # #