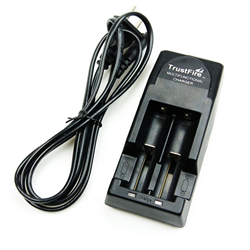 (PRWEB) June 13, 2014
Fairy-gift.com is announcing a 30% off sale on a collection of the popular TrustFire products that the company features on their online store. The TrustFire battery collection includes multiple Trusfire batteries, such as IMR 18650, IMR 18500, IMR 18350 and IMR 26650. The TrustFire charger collection includes TrustFire TR-001, TrustFire TR-002 and TrustFire TR-006.
This is the TR-001 charger from TrustFire. The TrustFire TR-001 charges 10430, 10440, 14500, 16340, 17670, 18350, 18500 and 18650 lithium-ion or IMR batteries. It may also charge other sizes of lithium-ion batteries as long as they are no larger than the 18650 size. It is a dual bay design which holds and charges two batteries at once. The included long cord makes it easy to set on a counter or desktop.
Fairy Gift allows customers to leave product reviews to help potential buyers shop and learn more about the products from people with first hand experience with the items. Justin, Fairy Gift's Business Development Associate, says that customer product reviews are a driving force behind the business.
About Fairy Gift
Fairy Gift is committed to be the most loved and trusted online store by offering a wide selection of good quality products at favorable prices and Fist Rate Customer Service.
Fore more details, please visit: http://www.fairy-gift.com/